Home
›
Strut Central
New York's Newest Spot (b/w What I've Been Doing)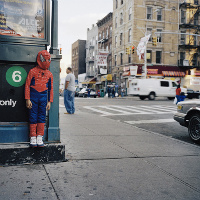 Jonny_Paycheck
17,825 Posts
Folks and Folls,
It's my pleasure to announce the opening of Good Records! We are located at 179 East 3rd Street, Between Avenue A and Avenue B, right in the heart of the trendy "east village" and three blocks from the 2nd Avenue F stop on the subway.
(add records)Starting July 1st, we will be open for business 6 days a week, 12-9 pm Tuesday through Friday and 12-10 pm weekends. For now we'll be closed on Monday (except, perhaps, by appointment or on holidays). We'll be in there working on the space for the next two weeks, feel free to drop by and say hi. We have over 2,000 records in stock. We are buying more every day. Soul, Jazz, Hip-Hop, Funk, Rock, Reggae, Brazilian, Latin, Disco, Soundtracks, Beats, etc. Used & new. $1-$1,000 (well, maybe not $1,000). We have been storing up some serious heatrocks that will be gracing the wall over the next few months! Don't sleep on the under-bins either... Come down to say hi, do some trades, and buy yourself something nice. holler at me ( [email]good.records@gmail.com[/email] ) for more info.
As many of yall know, I've been working on this for a long time. I haven't done it alone. Massive, massive credit also goes to Simon, Zvi, Justin, Cosmo, Sween, Drez, Sketch, Tony, Chris V. & Josh B., Nick Catchdubs, Jake One, Dave at Baghat... of course Soul Strut, and all the tons of people I've built with here and elsewhere who have offered their valuable advice, records, and moral support. Truly there are too many to name. This store was born out of the desire for a better shopping experience in NYC - and our number one asset is yall, our customers.