Home
›
Strut Central
Utrecht mega fair pix & such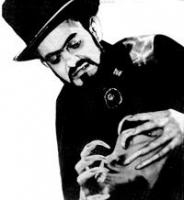 coffinjoe
1,743 Posts
Amsterdam had perfect weather for my monday off(mid 50's & sunny)and even with the drizzle & wind over the weekend,it was not too cold& plenty of heat from the raer inside jaarbeurssaw frankynipples & lurkers a**m & l*x5-6 times bigger than ARC or WFMUmega fair = mega funhere is the view down 3 of the 9 aisles
folks were saying the buying was better than the last few shows, the number of Japanese customers seemed rather lite comparedto previous shows (yen/euro related ?) so the rare stayed in the EUmore Russian shoppers in the hall than ever before, less mericans (also euro related ?)among the usual special features of autograph signings, live music & deejays, etcthis time included a room of posters from the Paradiso on display,a display of dutch music magazines "beatmeisjes" & eddy de clercq's exotica record collection :
also mega dutch collectors 5 tables of punk rare from the Damned
sellers included amsterdam's Waxamillian crews**** the flying dutchman & dutch deejay delay
shaking action @ stall #388
swedish rares
dusseldorf wax
paris record connection
and more record porn
don't miss the april fair !