Home
›
Strut Central
powerbook HD failure. (fuckshitdamn related)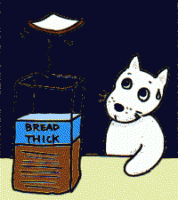 paren
537 Posts
~ 70G of data from the past 14 months of my life likely gone... sure, i've backed up a lot of material on my lacie external, but up-to-date versions of design projects for multiple clients, 3 mixes-in-progress, 200+ pages of writing / development work for Simon and Schuster, some production, 1000s of dildo-specific mp3s for diskjocking are gone gone gone and likely unrecoverable.

It's a Sobb Story:

Around 2 pm on Wednesday, I wrapped up a presentation to a client. Secured the project (a lil' web(bie) design work). Shook hands with client and packed up. Arrived home around 2:15 and my 15" 1.Ghz Powerbook G4 was locked up. Performed a hard restart. Flashing questionmark folder icons...ut oh. I then connected to my girl's iBook in target mode. The target was flashing on the screen and connected via firewire, but the iBook failed to recognize the HD. Zapped PRAM and ran the DiskWarrior 3.03 disc... still no HD present. Fuck. On Thursday, I took the unit to the apple store/genius bar. Booting from their external drive yielded the same results.

Bad news: AppleCare expired 2 months ago. Only apple support option: $340-something repair / HD replacement. I declined service and just ordered a larger, faster drive and downloaded the powerbook service source manual. I've disassembled and repaired lots of PCs and thinkpads but never operated on Apple products (with the exception of the matching 4th gen ipods whose hard drives both failed last week!)... I'm moderately concerned but confident that I can make the swap. Wish me luck.

Will be DJing in bklyn heights on Feb 5th and have a lot of records to re-encode. To any fellow dildo'ers who'd like to lend any assistance in rebuilding the digital crates, your assistance is welcome and greatly appreciated. To everyone else, chalk this up as yet another reason to backup everything.

Still considering data recovery service (dispite pricepoint) in order to recover photos and writing from the past year. We'll see...

and when your hard drive is dead and gone, just remember that

I know you and you know me,
I know you and you know me,
I know you and you know me,
I know you and you know me,
It's a sobb story, a sobb story...