Home
›
Strut Central
It's 2010 + The Beatles are too Raw (Xmas + Record-R)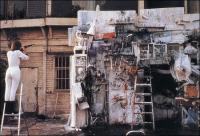 onetet
1,753 Posts
So my sister and her husband are ultra-religious and live In a secluded rural area. They are not quite Tea Partiers, but that reference point gets you in the right ballpark. They have two kids -- my niece, age 5, and my nephew, aged 10.

My nephew has exhibited every sign that he'd be a real music lover -- at the few family functions where popular music has flowed readily, he has freaked the fusk out -- but his parents do everything in their power to control his access to everything except Christian "rock" (or whatever).

Last year I made the mistake of telling my sister ahead of time that I planned to get him the Beatles "red album" as a gift; he knows I got into music through the Beatles and expressed some interest in hearing them. She told me that I needed to wait a year, as he wasn't ready for "songs about girls" yet. Now, in this Waka Flocka age we live in, I'd think even an extreme christian might find songs about hands-holding a refreshing sentiment for kids -- but after some pointles attempts to reason wirh her I bit my tongue, waited, and gave him the album a year later (yesterday).

Now today I hear from my mother -- equally religious and probably a co-conspirator -- that the kid will still not be allowed to hear the Beatles. In freakin 2010.

This is crazy, right? How should I handle this? I made it out of a similar environment, but I grew up near DC/Baltimore with a few hip friends and plenty of access to culture. This kid is in a church school in the middle of nowhere with strictly controlled Internet access, and I rarely see him.