Home
›
Strut Central
Help Strut PT II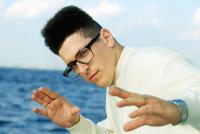 keithvanhorn
3,855 Posts
Ladies of the strut,

I recently got in an argument with my (ex)girlfriend who also happens to be the mother of one of my children. Please tell me if I was off base in how I acted.

To make a long story short, I'm very successful and this causes me to be suspicious of the intentions of the women I date. This particular woman had me bankroll her failed entertainment career and then seemingly lost interest in me at the exact moment I pulled the plug on her ATM (me). Anyway, one night around this time, I headed over to her place for some drinks and a dip in the jacuzzi. Let me first set the stage by telling you that throughout the course of our relationship, SHE ALWAYS BLEW ME BEFORE THE JACUZZI. However, on this particular night, she fell asleep before I even got my feet wet. As you can imagine, I was livid and screamed at her for being a whore, cunt and a goldigger. Now she acts like I'm a madman and won't take my calls.

I guess I might have overreacted, but who was in the wrong here?