Home
›
Strut Central
Your Top 5's for the week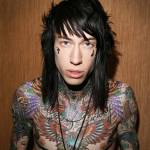 Guzzo
8,611 Posts
1) your Boy is Back (at work)[/b] - so I'm not sure how much detail I gave the board about this, but I had to leave my previous job about a month ago after a combination of issues came up (school intereference, fathers health, Hollywood typical bullshit, etc.) Burned some bridges with my leaving and went into a 2 week long panic attack about "never working in this town again". Well now its all back on track. got the call earlier this week and I begin work on a new show starting Sunday.

2) Girls, Girls Girls[/b] ...I do adore. shit goes in streaks and right now I can't complain. I'm telling you there is no better way to go to sleep than to have a beautiful girl whisper "good night" into your ear.

3) Anthony Pearson[/b] - Ain't seen dude since his recent move but during my little work stoppage AP has shined through as a true friend. I couldn't begin writing all the positive shit he's done for my down & out self over the last few weeks but its all appreciated and I'm glad to have a friend like that in my life.

4) Upcoming project that you all will be clowing me for for days years[/b] - can't talk too much on it yet. But trust me y'all will definitly get a kick out of it.

5) Reversed the Racism [/b] - I've had this film professor that has dropped little bits of anti-semitism on me all semester. (Blaming "those people" for Mel Gibson not getting a Best picture nod for The Passion, calling me in class by other Jewish last names) But somehow it's all ended not only that but she now is helping me get future jobs in Hollywood. I now have her to thank for getting me an internship at ABC which, hopefully, could springboard into something very huge.

Bonus Beat) Star Wars [/b] - went in expecting to not like it, walked out loving it. Great science fiction happy Hollywood stuff that everyone needs to enjoy once in a while.

fuck a bottom 5 its Friday...keep it upbeat!