Home
›
Announcements
B.Cause Matthew Africa: SOUL BOULDERS Completed!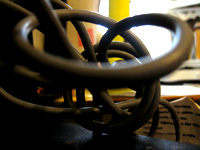 peacefulrotation
3,481 Posts
I posted a little 13 minute unfinished soul mix a while back...a mix that probably would not have been completed if not for some encouraging folks on here. Matthew Africa in particular, asking me "either finish that mix homie, or step aside and let me get on.." I guess a little of both of those requests were met, and dude ended up rolling through the crib with some incredible soul records that eventually became the 1st half of this mix. (I believe my son oversaw much of our project while driving his trucks all over the room and records) Overall the music here is all slow, funky, soulful and sometimes psychedelic but has additionally a similar but indefinable quality...'haunting' is the closest term I can conjure. This mix is primarily built on 45's but there are a few lp cuts thrown in for good measure. So the homie Asprin has hooked it again with a gritty smoked stone design, & now we have a product I think you will dig thoroughly! I took the order in today and am happy to say we are now accepting pre-orders for these babies. Comes in a nice overwrapped jewel case, and is a tad over 73 minutes in length.

Thanks again, soulstrut peoples...couldn't do it without y'all.
TAGGED: