Home
›
Strut Central
I want to shout in the streets, "Remember Allende"
Bambouche
1,484 Posts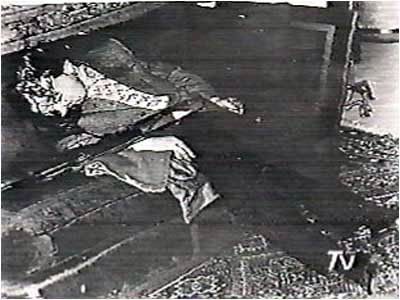 Those of you in New York should remember September eleventh by attending the Anthology Film Archives showing of
Salvador Allende[/b]
. First, because the day deserves quiet. Second, September 11, 1973, Allende committed suicide as his presidential estate was
being bombed
. His suicide "note," a national radio broadcast to his countrymen:
Other men will overcome this dark and bitter moment when treason seeks to prevail.
The movie is sufficient as far as movies go. Nothing really brilliant, nothing all that terrible. The beauty of it, though, is it's firsthandedness. Patricio Guzm??n is not shy about telling you what
he
thinks. I respect that. The film also serves as a great source for footage largely lost to history. People, really old people, talking about things they saw. This is good, as far as oral history goes. Especially given the unique ability of history to reveal the construction of truths. The movie, as well as
Freedom of Information Act
requests, shows how instrumental the United States was in the
death of Allende
. Not to mention Ren?? Schneider. It's troubling to see just how little is left of a man who lived his life so publicly. His family buried a photo album through the years of Pinochet dictatorship. It is dug up in the film. A sort of palimpsest of the time that has passed. History is flexible, and has many hands. Nixon knew this better than most.There is also footage of Allende
addressing the United Nations
, offering this prophecy beyond the outworks of his presentiments:
We are faced by a direct confrontation between the large transnationalcorporations and the states. The corporations are interfering in thefundamental political, economic and military decisions of the states.The corporations are global organizations that do not depend on any stateand whose activities are not controlled by, nor are they accountable toany parliament or any other institution representative of the collectiveinterest. In short, all the world political structure is beingundermined. The dealer's don't have a country. The place where they maybe does not constitute any kind of link; the only thing they areinterested in is where they make profits. This is not something I say;these are Jefferson's words.
To those of you who are not in New York:Have you had a chance to see this film? Have you thoughts on Chile, or Allende, or Wal-Mart or United Fruit or other transnational corporations? Let this get lively, or just use this thread as a reason to bump this if you haven't in a while:
How much more evidence do the citizens needthat the election was rigged with trickery and greed?And, if this is so, and who we got didn't winlet's do the whole Goddam election over again!The obvious key to the whole charadewould be to run down all the games that they played:Remember Dita Beard and ITT, the slaughter of Atticathe C.I.A. in Chile knowing nothing about Allende at this time... in the past.
It follows a pattern if you dig what I mean.[/b]
And, with nothing but a crushed heart, sleep well Sweeney family.All my love,~B