Home
›
Strut Central
Psychraer Clip of The Week + Some Record Bitchin'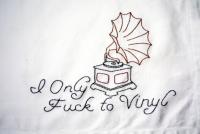 The_Non
5,691 Posts
So, I went to a record show today. It was not what I expected it to be. Last year I got some nice hip hop 12" and R&B 12" joints,and some sly R&B LPs (as well as other stuff). Today, only thing I was able to cop was psych raer, which is nice, but I wants the R&B,

Thing is, why do dudes a few months ago bring certain crates, then this time, same dudes bring half as much and all schlock (and pay for a table at the show and don't come)? Hella weak. And the things people come in and look for at these shows is fuckin' mindscrambling! They had the PA jumpoff saying dudes are looking for so and so. Two requests come to mind,
(KEEP IN MIND THESE ARE REAL!!!)[/b]

Eric Clapton-Backless



AND, the fuckin' kicker, this dude chats me up and says he CAME TO THIS SHOW[/b] to find GROVER WASHINGTON-WINELIGHT!!!!!!!!!!!!!!!!!!!!!!!!!![/b]

I was like WTF?!?!?!!! Are you serious? I would never bring that fuckin' record to a show in a million fuckin' years believin' someone would cop it (or play frisbee with it like my Bobby Brown frisbee from high school). PURE UNADULTERATED ABSURDITY!

These old head dudes don't have email. In this day and age, these record dudes just aren't thinking it all out in my opinion. I think it might be difficult to function without email as an option for doing business. It's just so weird; OUR hobby is populated by some of the most oddball enthusiasts barring Star Trek, LOTR, and Star Wars.

Finally, this kid I was looking next to refused to move (back to crate etiquette). AND I pull things out and show them to him piece by piece so he doesn't look in the crate so I can check out the row, and what does he do? Look through the crate again. I saw him looking at every "hot" CTI record I pulled out. I'm helping him out and he can't be considerate. All in all a VERY weak record show. Hope next week's show is better (see my other post plaese!)

So here is the clipraer of the week, psych freshness. Do not listen if you do not like acid guitars. Not

in my opinion, but an excellent joint. Check it out:

http://thewaxcrusade.com/killinme.wav

Peace
T.N.