Home
›
Announcements
5th Annual Ponderosa Stomp In Memphis
Shingaling
877 Posts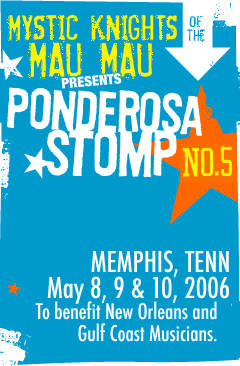 Just wanted to share the line-up for the 5th Annual Ponderosa Stomp this year. It will be held in MEMPHIS, TN!!! SUNDAY MAY 7TH...9:00pm - 3:00am - Hi-Tone Cafe... $5.00PRE-STOMP SOUL NIGHT with DJ's...*** Mr. Finewine*** Tony Janda*** Agent 45*** High C*** Soulmarcosa*** The Hook-Up*** Chase One*** Redeye JediHosted By: Buck WildersMONDAY MAY 8TH (During the day.)...Time to be announced. - Gibson Lounge... Free Entry!RECORD SWAP/SHOWMONDAY MAY 8TH (During the evening)...Gibson Lounge... $40.00Archie Bell, Roy Head, Syl Johnson, HI Rhythm Section, Willie Cobbs, Eddie Bo, Willie Tee, Dennis Coffey, Al "Carnival Time" Johnson, The Bad Roads, Jay Chevalier, Chick Willis, Joe Clay, Alvis Wayne, Kenny Brown, Tammy Lynn, Herbert Hardesty, CC Adccok & Lafayette Marquis, Deke Dickerson & The Eccofonics, The Climates, Micheal Hurt & The Haunted Hearts, The Alarm ClocksTUESDAY MAY 9TH...Gibson Lounge... $40.00Scotty Moore & His English Band, William Bell, The Bo-Keys, D.J. Fontana, Sonny Burgess, Travis Wammack, Ace Cannon, Hayden Thompson, James Burton, Dale Hawkins, The Nitecaps, The Fabulous Wailers, Kenny & The Kasuals, Warren Storm, Lazy Lester, Johnny Jones, Matt Lucas, B.B. Cunningham, Herb Remington, Arch Hall Jr., Jumpin' Gene Simmons, Herbert Hardsety, Lil' Buck Sinegal, Eddie BondWEDNESDAY MAY 10TH...Gibson Lounge... $40.00Clarence "Frogman" Henry, Scotty Moore, Billy Swan, Boots Randolph, Bobby Patterson, Question Mark & The Mysterians, Barbara Lynn, Fillmore Slim, The Tennessee 3 feat. W.S. Holland & Bob Wooten, Carl Mann, Rayburn Anthony, Sleepy Labeef, James Blood Ulmer, Billy Boy Arnold, Lady Bo, Jody Williams, Henry Gray, Little Freddie King, Rockie Charles, The Rebirth Brass Band, Big George Brock, Mem Shannon & The Membership, Wiley & The Checkmates, The Rockabilly Country Band, Herbert Hardsety, Bob Moore*** Harvey Scales recently got added to the bill. Night to be announced."A BENEFIT FOR THE NEW ORLEANS AND GULF COAST MUSICIANS." Proceeds going to New Orleans Musicians' Clinc and Musicares!Tickets and Information:
www.PONDEROSASTOMP.COM
*** If you got any questions...I'd be glad to answer them.