Home
›
Strut Central
RSD Tucker & Bloom giveaway related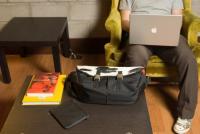 HOTSOUP
63 Posts
Hey guys. Been a min since I was lurking on here. I hope everyone is dewinnngoood. I just wanted to drop a little link for a couple of contests we're doing into the Strut-o-sphere.
We did a bag with Third Man Records last year and while cleaning up the factory I found two. I hit up Third Man and we've got a give away on our hands. Here are the details:
Two chances to win one of these. The drawing ends Monday the 20th.
Sign up for the Third Man Giveaway here
Third Man Records X Tucker & Bloom Messenger Bag
Elvis "My Happiness" 10" Record (Facsimile of Elvis' first recording)
The White Stripes "Get Behind Me Satan" Reissue on red and white 180 gram vinyl
RSD-exclusive pin, sticker and White Stripes baseball card designed by Rob Jones
The second drawing is from Flea Market Funk, also running through the 20th and includes:
Tucker & Bloom North To South messenger bag
Tucker & Bloom t-shirt
A double LP of Yasiin Gaye by Amerigo Gazaway.
Lil' Dave - Chips & Salsa (7") Record Breakin' Music
Coultrain - The Wanderer (7") Record Breakin' Music
La Melodia - Chemistry (7") Record Breakin' Music
I, Ced - Another Look at U (EP) (7") Record Breakin' Music
J1 aka The Deer - The Yellow (EP) (7") Record Breakin' Music
Fatnice - Peace, Love & Unity (Remixes) (7") Record Breakin' Music
Dali - Fine Young Man (7") Record Breakin' Music
Big Pimp Jones - Rigor Mortis (7") - RBMB
Sign up for the Flea Market Funk giveaway here