Home
›
Announcements
'Afro cosmic disco' & some island funk mix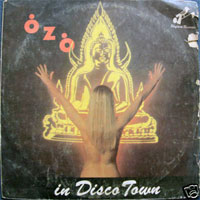 rumbakali
11 Posts
Sup all, after using the forums mostly for posting ebay auction links here's something to share from my side, a mix I did 2 weeks ago for our monthly radio show. 'Afro Cosmic Disco Funk' is a two-hour mix of rare & some ungoogleable tracks from Africa and the Caribbean.
Hightlights include a previously unknown Tanzanian psych/funk track, the instrumental version of Brotherson by Ojeda Penn, and some Surinam grooves.
Listen/download here:
http://www.africanhiphop.com/africanhiphopradio/dj-gioumanne-afro-cosmic-disco-funk/
Tracklist:
Abdo ??? Ah ya zen (Egypt)
From the cradle of African science comes Abdo, who released a brilliant album called ???Salma??? recorded in Sweden in the mid 70s with a mostly Swedish team including Bj??rn Json Lindh who released some jazzfunk gems on his own. Their collabo was released in Sweden and France but is very hard to find nowadays. ???Ah ya zen??? transforms from a semi traditional Egyptian melody into a heavy headnodding groove.
Ruth Koenders & Hugo Landolf ??? Boni doro (Surinam)
This song from the South American country of Surinam (a former Dutch colony) was recorded for the 3rd edition of Suripop, the national song festival. ???Boni doro??? refers to the legend of Boni, leader of the Maroons (escaped slaves living in the inland of Surinam up to today) who fought the Dutch in the 18th century. Boni was finally captured and decapitated, but his head fell into the river, and the spot where this happened is called Boni Doro.
Young Ones of Guyana ??? Sing a simple song (Guyana)
From Surinam???s neighbouring country of Guyana comes this funk tune, a cover of a Sly Stone song from 1968, on an LP filled with calypso style jams. The LP containing ???Sing a simple song??? is inexcusably expensive when it shows up online. This French release has a sleeve with a white lady dancing under a palm tree, and the group name hidden away in a corner, which makes one think the Young Ones were being marketed in France as exotic elevator music.
Afrofunk ??? Farewell to Ibusa (Ghana)
One of the best Ghanaian afrobeat records, the LP ???Body music??? by Afrofunk was finally reissued earlier this year. We heard rumours that this band was somehow linked to the Funkees from Nigeria, not sure how much of that is true.
Sagbohan Danialou ??? Djessou (Benin)
Under the radar LP from Benin, even if there???s an entire documentary about the artist ??? ???L???homme orchestre: Sagbohan Danialou???. More proof that not everything groovy from Benin is called Orchestre Poly-Rythmo.
Fotso ??? Frenchy girl (Cameroon)
We don???t know much about the artist behind this dirty little disco funk jam, but it???s possibly the same guy who also did the ???Piketa groovin??? 12 inch (proto rap from early 80???s Cameroon) as ???Fots & Byke???.
The Godfathers ??? Ebe ye yie ni (Ghana)
From the very obscure untitled album released in the UK by protegees of Osibisa, the semi mainstream Afro rock/disco band. Features Mac Tontoh playing the trumpet.
Esbee Family ??? Chics and chicken (Nigeria)
These guys are just too much??? look at the sleeve, indeed it displays ???Chicks and chicken???, and why not make a song about the best things in life. This underrated bass heavy joint was also pressed on 12 inch. Just wait for an European dj to cut this up in Logic and release it as a bootleg edit.
Hammatan ??? Asaba town (Nigeria)
Also known as Ozo, this band made up of Nigerian and British musicians recorded a so-called loft classic (the track Anambra is often mentioned in connection to David Mancuso, a legendary NY deejay whose influence is felt in today???s dj culture). They also recorded an album called ???Disco town??? which was believed to only having been released in Nigeria in tiny quantities ??? three heavy disco cuts on there, so it became somewhat of a collector???s item. Turns out the LP was also released in UK but under a totally different group name: Hammatan. This doesn???t make the album any easier to find though. ???Asaba town??? is a discofied tribute to the capital of Delta state.
Super Doeths ??? We got to dance (Nigeria)
This duo was previously rescued from obscurity by Uchenna Ikonne in our ???Nigerian rap: the first decade??? mix. Here???s another song from their LP, again containing a bit of Nigerian rapping avant la lettre.
Basa Basa ??? Konyo (Ghana)
From the vinyl album that makes Japanese collectors drool, here???s another mad groove ??? check out Dj Gioumanne???s previous mix for another excerpt. If anything deserves a reissue it???s this album, only ever released in Ghana as Basa Basa Experience ??? Together We Win, and as Basa Basa ??? Homowo on a tiny label in the Netherlands.
The Outfit ??? Use me (Barbados)
A bit of island funk by the group led by Phil ???Bumpy??? Dino. They were originally from Barbados but apparently spent time touring in Canada in the mid 70s. This cover of the Bill Withers song can easily compete with the original.
Ojeda Penn ??? Brotherson (instrumental) (USA)
Ojeda???s first lp ???Happiness??? is sought after for the boogie track Brotherson. Little known to the world, there are some copies of the record (almost indistinguishable from the outside) that have an alternate version of that song which is indeed quite different from the original. It???s longer but most importantly the vocals have been removed and the song is turned into a massive jazz funk jam.
Les Ya Toupas du Zaire ??? Zaiko wa wa (DR Congo)
The same guys who did ???Je ne bois pas beaucoup???, a bass heavy analog soukous jam with funny lyrics which was reissued by Strut Records on the Sofrito compilation. Their second LP is quite different though; all instrumental and semi unplugged, it feels more like a spontaneous jam in the studio with some psych effects added.