Home
›
Strut Central
EMBRYO (Germany) 2018 concert audio stream / Jazzrock Krautrock
schoggi
294 Posts
Monday 27th & Wednesday 29th at 9pm (MET)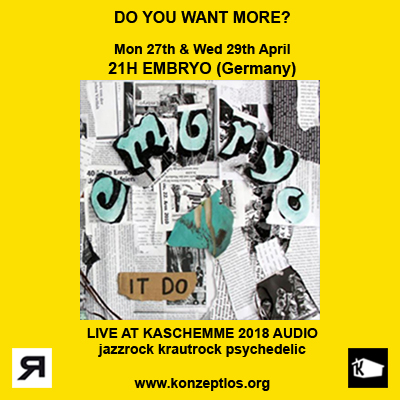 EMBRYO (Trikont, Germany) jazzrock, krautrock, psychedelic
Founded in 1969 by Christian Burchard, Embryo is surely one of the most legendary jazzrock, krautrock bands. Since 2017 his daughter and multi instrumentalist Marja Burchard travels the world with the collective. In 2018 they've stopped by in Basel at Kaschemme Club and played an incredible concert.

Sunday 26th8pm
Konzeptlos DJ set
9pm
EMBRYO (GER) live at Kaschemme 2018
audio
stream
Monday 27th & Wednesday 29th April9pm
EMBRYO (GER) live at Kaschemme 2018
audio
stream
BandMarja Burchard
/ vibraphone, marimba, trumbone, keyboard
Jan Weissenfeldt aka JJ Whitefield
/ guitar, phin
Maasl Maier
/ bass, irish bouzouki, marimba
Jakob Thun
/ drums, percussion
Embryo website
Bandcamp
Video snippet of the concert at Kaschemme in 2018: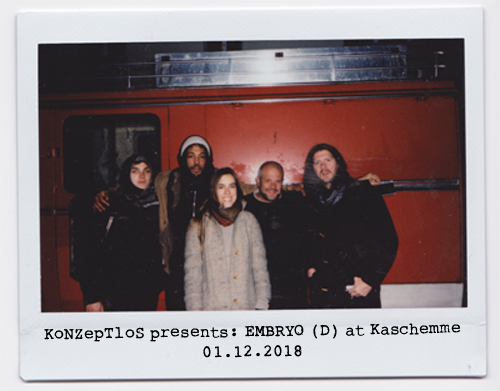 About
In the last 6 years the Konzeptlos DJ duo organized many incredible concerts at Kaschemme (click here). Many of these sessions were recorded in collaboration with Flashback Records and the consent of the artists. The finished audio/video recordings are given to the band for free.
In the coming weeks we'll reveal these unheard archive gems, free of charge on the Rochade project streaming page. Every Sunday 8pm (MET) a new concert and two replays Monday and Wednesday at 9pm of the following week.
Thursdays we announce the forthcoming concert on the Kaschemme page and activate a solidarity ticket (Soli-Ticket) sale. You enjoy what you hear/see and you want to support these artists and Kaschemme? Then buying a "Soli-Ticket" (click here) is the right way to go! The revenue is distributed 50/50 between the band and Kaschemme.
The Sunday sessions start with a one hour DJ set of crackling plates presented by Konzeptlos.
Thank you for your support and enjoy.
Konzeptlos
http://www.konzeptlos.org/
Facebook
Instagram
TAGGED: