Home
›
Strut Central
Karl Hector & The Malcouns (GER, Now-Again Records) concert live stream (2019) Sunday 19th
schoggi
294 Posts
Sunday April 19th 8pm (met)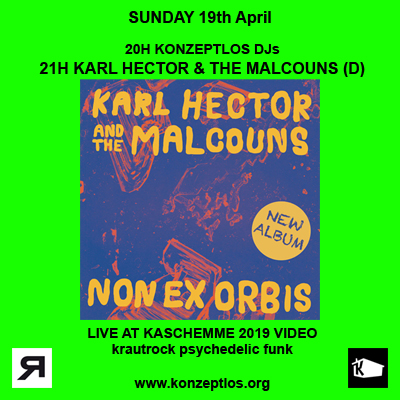 Karl Hector & The Malcouns (Germany, Now-Again Records) Krautrock, psychedelic, funk

Sunday 19th
8pm Konzeptlos DJ set
9pm Karl Hector & The Malcouns 2019 concert video stream
Do you want more?

Reruns on Monday 20th & Wednesday 22nd April

9pm Karl Hector & The Malcouns 2019 concert video stream
Band

JJ Whitefield - Guitar

Zdenko Curulija - Drums
Al X Markovic - Bass

feat. Marja Burchard (from Embryo) - Vocals/Keys/Vibraphone
Listen, enjoy & buy more of their music
HERE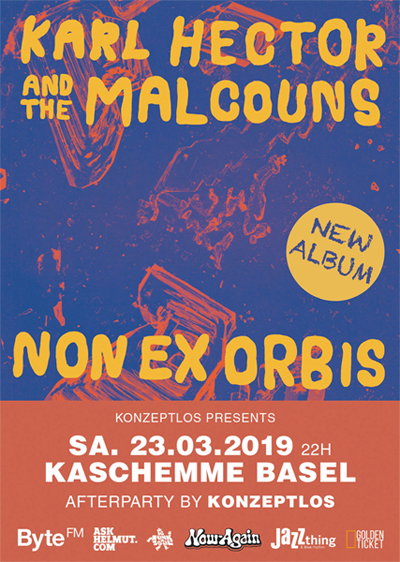 About
In the last 6 years the Konzeptlos DJ duo organized many incredible concerts at Kaschemme
(click here)
. Many of these sessions were recorded in collaboration with
Flashback Records
and the consent of the artists. The finished audio/video recordings are given to the band for free.
In the coming weeks we'll reveal these unheard archive gems, free of charge on the
Rochade project streaming page
. Every Sunday 8pm (MET) a new concert and two replays Monday and Wednesday at 9pm of the following week.
Thursdays we announce the forthcoming concert on the
Kaschemme page
and activate a solidarity ticket (Soli-Ticket) sale. You enjoy what you hear/see and you want to support these artists and Kaschemme? Then buying a "Soli-Ticket" (click here) is the right way to go! The revenue is distributed 50/50 between the band and Kaschemme.
The Sunday sessions start with a one hour DJ set of crackling plates presented by Konzeptlos.
Thank you for your support and enjoy.
Konzeptlos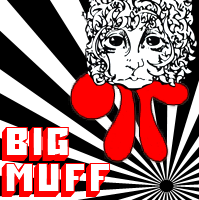 TAGGED: