Home
›
Music
›
Record Collecting
LOADED 45 - BABY I WANT YOU - SUENOS - SPANISH VERSION
razadelsoul
1 Post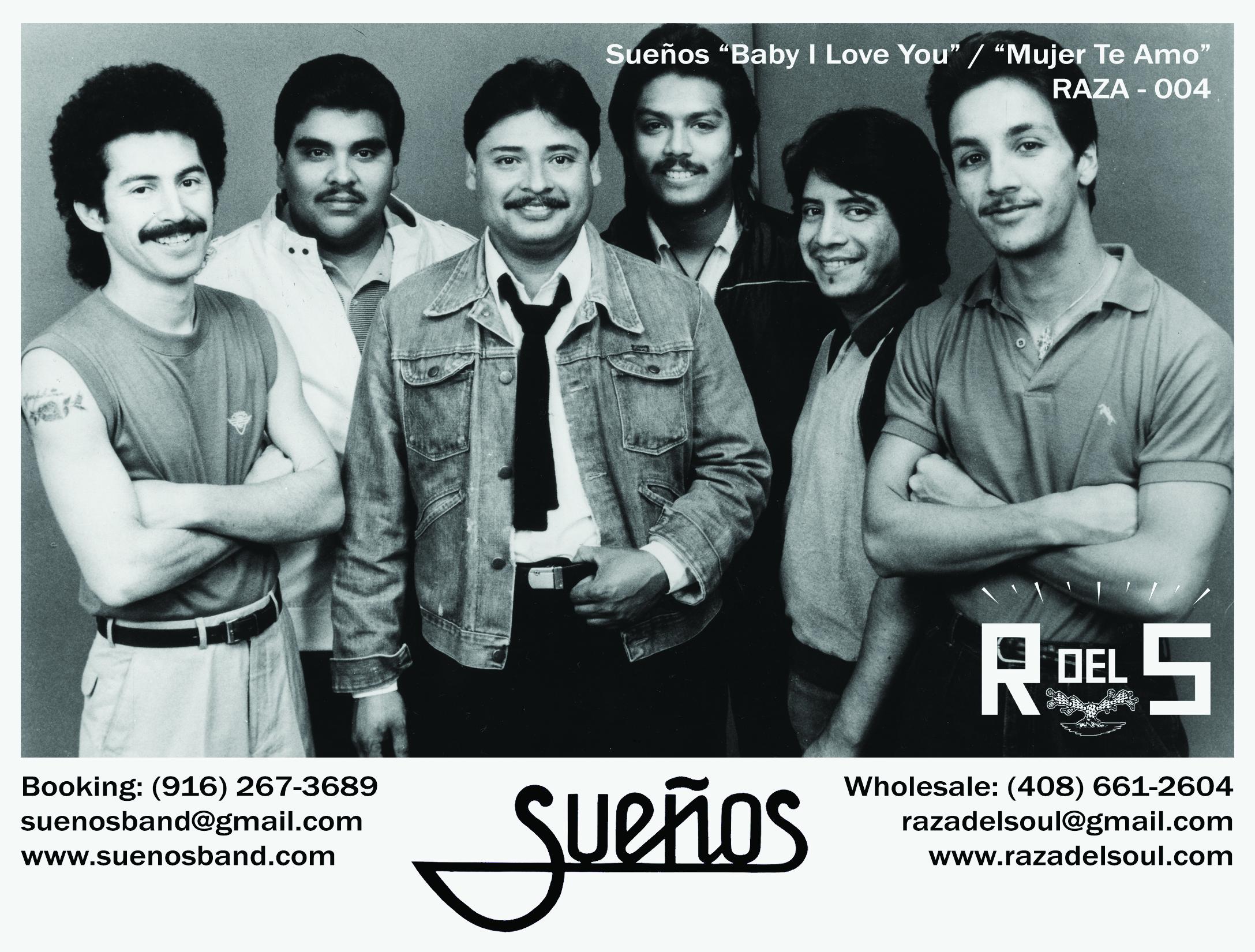 Chicano Soul is now revered and sought after. But during it's time, SUEÑOS like many other Chicano bands struggled with the record company support they needed in order to be truly successful. Although SUEÑOS was able to be musically versatile and cater to various markets within the Latino community, they were held back by record contract restrictions and pressure from promoters to sound a certain way and one way only.
During their nine year recording history from 1979 to 1988, SUEÑOS recorded primarily in Spanish including everything from Ranchera, Salsa, Norteño, Tropical, Funk and Chicano Soul. Like many Chicano acts before them, SUEÑOS, from Sacra, Califas found themselves caught between an Anglo, Mexican and Chicano world struggling to exist and become embraced as an act for their diversity. As Frank Lizarraga puts it, "We were a Chicano band that played Mexican music".
SUEÑOS was formed in the summer of 1979, during the height of the Low-rider Renaissance. Most of the original band members were still too young to gig at a 21 and over club. Jaime Zuniga, co-founder of Sacramento's Midnight Players, was invited to join other bands but after playing with SUEÑOS in Frank's mom's basement, Jaime knew this was the band for him. Frank wrote a majority of the music and Jaime became the English lead singer.
Frank Lizarraga was just about complete with his record contract obligations with Ellas y Ellos, a Ranchero and Cumbia band on the San Jose label, Luna Records. Frank Lizarraga, Richard Martinez and Fernando Quiroz, came up the name SUEÑOS. Although SUEÑOS performed as a Latin cover band in the local club scene to pay the bills, the band's focus was writing, recording and performing original music in English and Spanish. A few jam sessions later and the band signed a distribution contract with Luna Records which both made them and breaked them.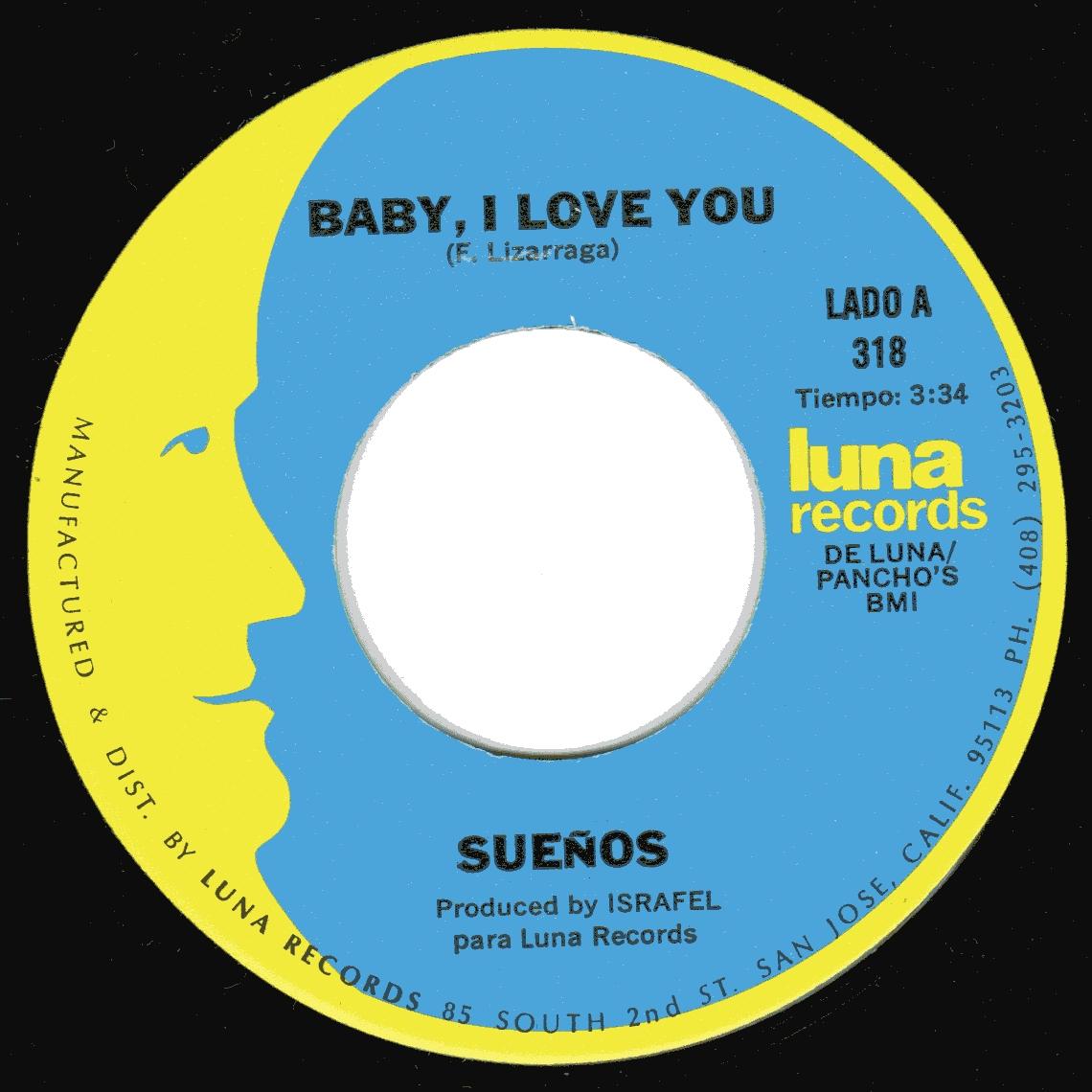 Frank's wife loved Oldies, so he decided to write a rolita titled, "Baby I Love You", to impress her. When Jaime Zuniga first gave the rola a listen, he responded, "When are we going to record it?".
Luna Records, was a strictly Mexican label. After heavy negotiations, Luna agreed to release SUEÑOS' first English rolita in 1982, titled, "Baby I Love You", but with a few restrictions. Luna agreed to cut 1000 singles, no dice on the album and no distribution. Luna kept a good 800 sold in their record shop in San Jo. The remaining 200 were sold by SUEÑOS at concerts, car shows and through mail orders in Low Rider Magazine. Luna's compromise was to cut a Spanish version titled, "Mujer Te Amo", on their debut self titled album in 1983. Ironically, "Mujer Te Amo", was never cut as a single and was largely unnoticed by their Spanish following and, "Baby I Love You", is now sought after among Chicano Soul record collectors.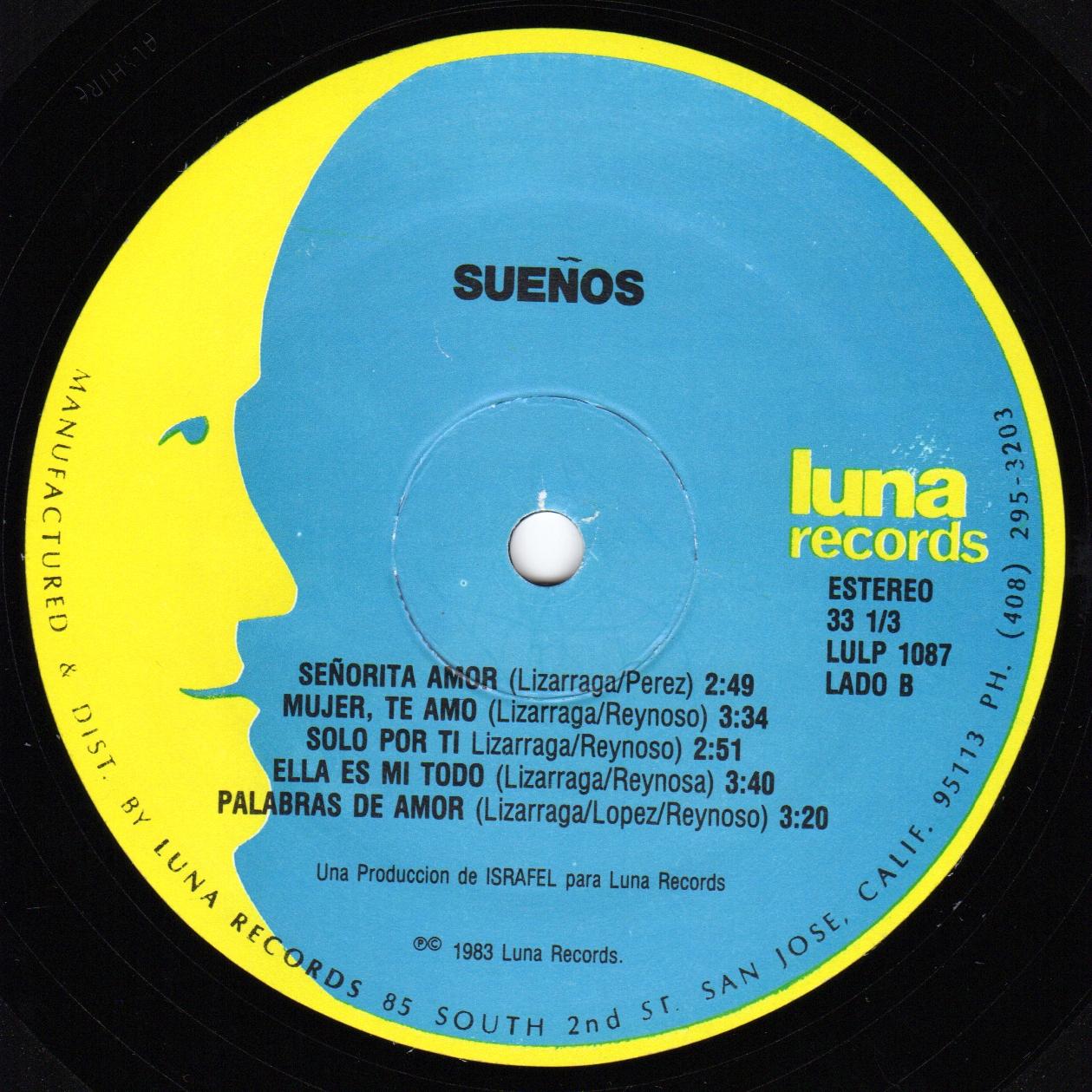 Performing was even more tricky. Mexican promoters did not want SUEÑOS to play what promoters called "Chicano music", stopping entire sets in the middle of performing rolitas like "Baby I Love You". During San Jo's King and Story days, SUEÑOS played at the Tropicana nightclub where they were restricted from playing in English until after the midnight hour. Radio DJ's, agents and promoters found it difficult to label SUEÑOS and promoted them as Mexican band. In spite, the band would play Oldies in front of an all Mexican crowd and Salsa in front of a crowd of Cholos.
Regardless of the band's challenges, SUEÑOS was able to be consistently booked in the Mexican market, and bill on the same lineup as Tierra, Los Lobos, Tigeres del Norte, Los Yonics; and thrive in Chicano Soul in the low-rider circuit.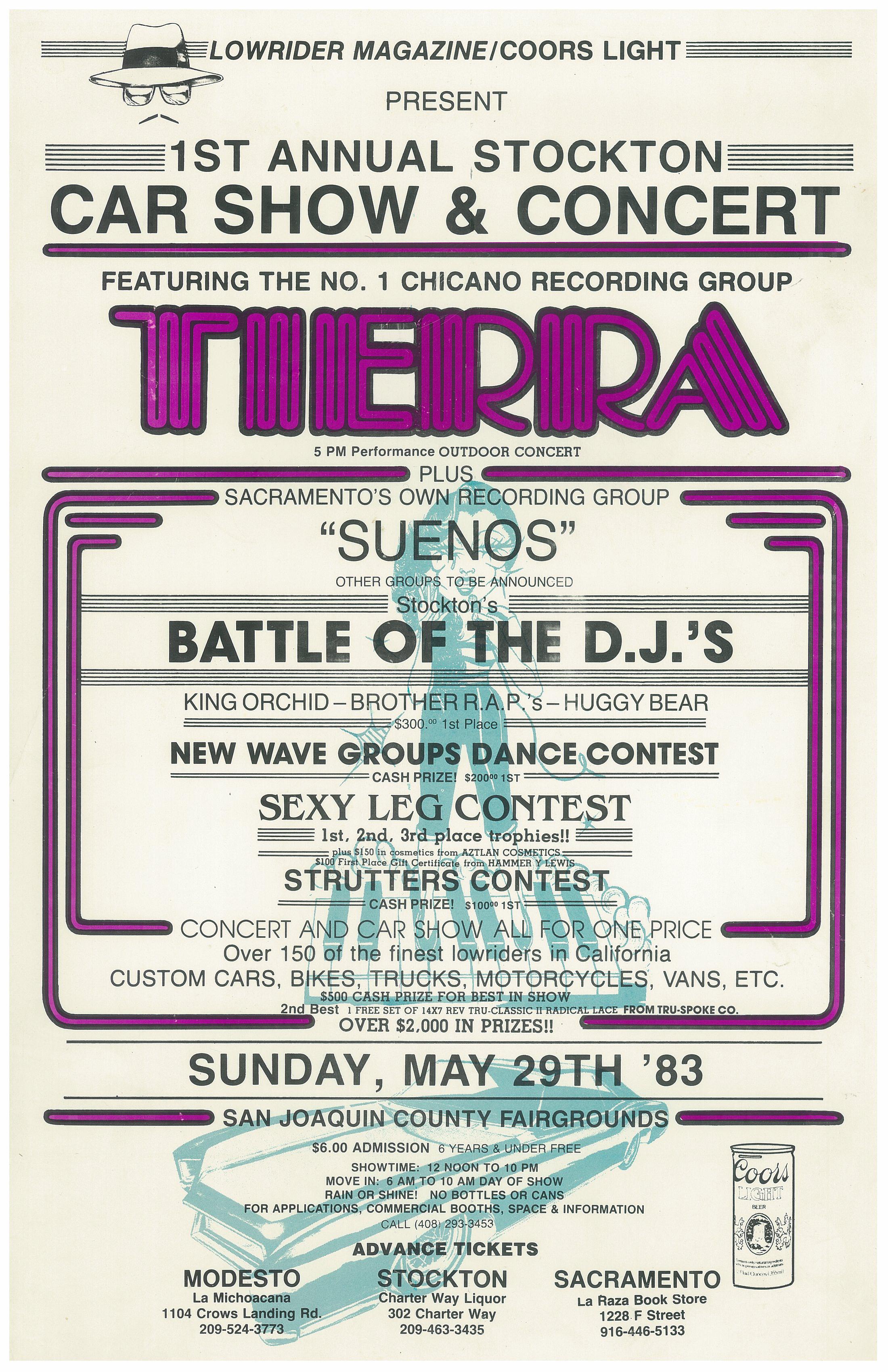 After the band's break up in 1989, band members continued gigging in other local bands and for the most part went on with their lives. It wasn't until 1999, when former band members discovered their first English record, "Baby I Love You", featured on a bootleg Rare Oldies CD compilation, Lost Chicano Oldies Vol. 1. After contacting the vato selling the bootleg, the conversation didn't quite end well but inspired Frank Lizarraga to officially re-release, "Baby I Love You", in 2004, on a CD compilation titled Hollywood Girl and More Chicano Soul.
Hollywood Girl and More Chicano Soul featured the band's entire Chicano Soul catalog derived from the original master tapes and highest graded vinyl. What's even more impressive is unlike many artists, Frank Lizarraga was smart enough to own his publishing company and masters to the entire SUEÑOS' discography. This paved the way for the band's reunion in 2009, and performing at the Souleros Ball in 2013, held in their hometown.
The OG bids for $200+. The Spanish version never cut on 45. The OG was a 1000 press. This Re is a 500 press. Bootlegged on various Rare Low-rider Oldies CD compilations.... Now for the first time, Raza del Soul, de San Jo, Califas proudly presents an officially licensed limited 500 press of the English version on one side and the Spanish version on the flip.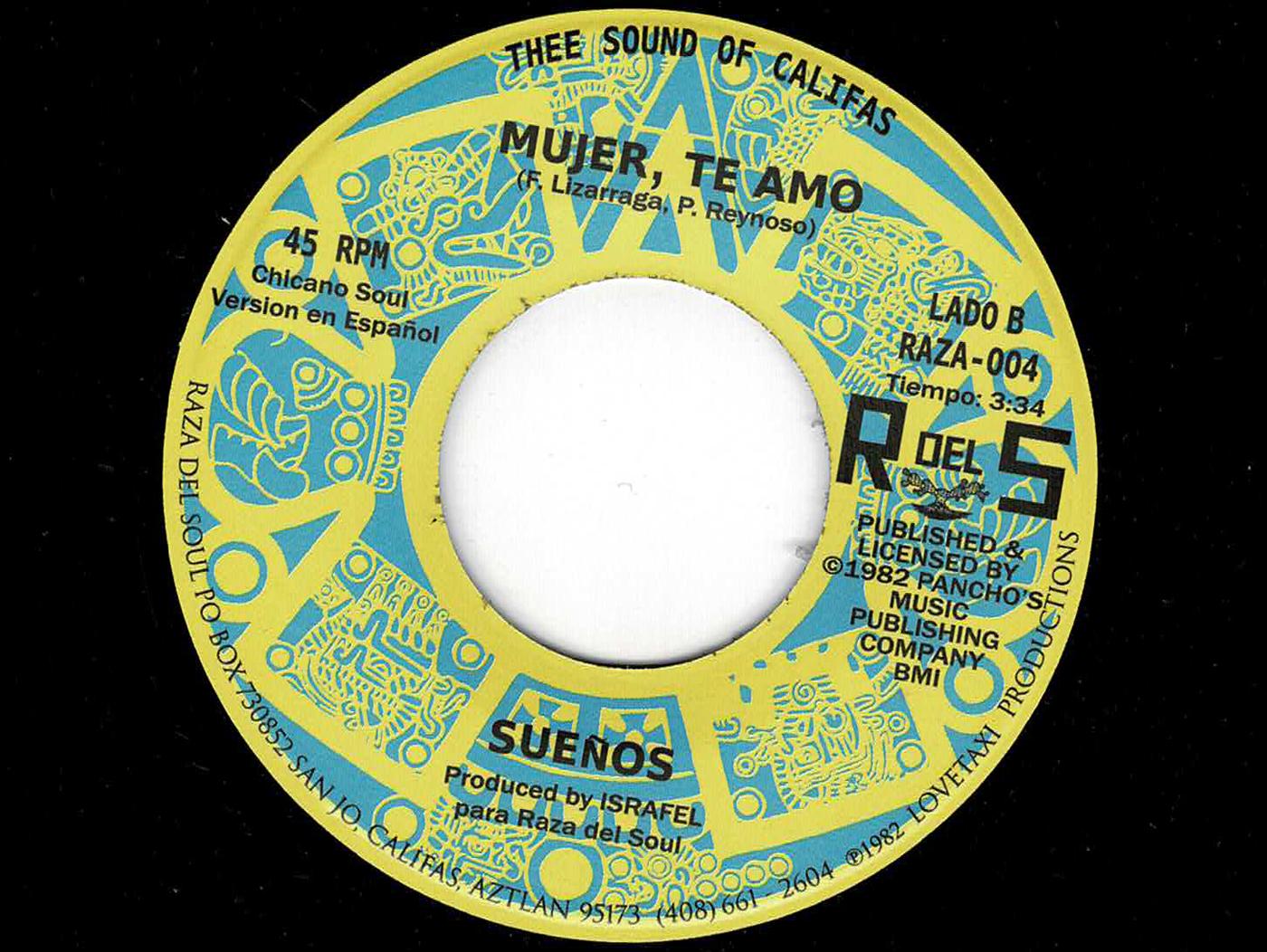 "Baby I Love You" b/w "Mujer Te Amo" RAZA - 004.
A Reissue without Borders.
LTD 500 Press. No repress.