Home
›
Strut Central
D&G - The Scepter & The Sword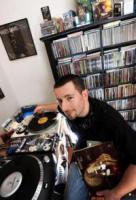 Dawhud
213 Posts
A track I made, "Battle Anybody," found it's way into Dj Premier's hands about 4 years ago and after he put it on a list, my man Ace and I decided to put together a full length project. We decided to go as D&G (David & Goliath) and the LP we put together is called "The Scepter & The Sword." This project has been an epic marathon, but is dropping on July 14th and Fat Beats will be distributing it.
This is the 1st project I've worked on that I thought needed to be documented in vinyl. The standard black version Fat Beats will distribute and the splatter variant that mimics the album art will be available on our
bandcamp site
.
I produced the project and we were able to work with
Masta Ace, Rock from Heltha Skeltha, Sadat X, Pacewon & Kokane
.
Although I've been steady hyping the project, I've also been kind of keeping it on the lo. But... I hope you like it.
Peace