Home
›
Music
›
Music Talk
"We got a sweet thing going " Volume 2.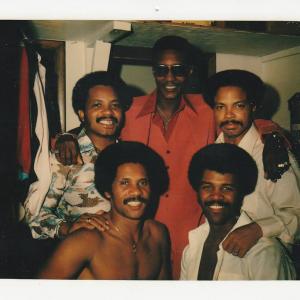 thatfunkykid
31 Posts
Various Artists - Volume 2 (CD)
We Got a Sweet Thing Going



Release Date: Monday 25th July 2016

"We Got A Sweet Thing Going On" volume 2 carries on where volume 1 left off. Eighteen great tracks which all showcase the group harmony sound, well almost! We've thrown a curve ball into the mix on this occasion with the inclusion of an instrumental "Merry-Go-Round Of Love" one of three previously unissued tracks out of the four featured from the Milwaukee group the Final Chapter. As with the previous compilation a solo artist has crept in to rub shoulders with the group ensembles. Gary, Indiana's very own Mr Wilton Crump who performs both sides of his melliflous solitary 45 single "Think It Through" and "Give Your Love To Me"released on his own Olive Branch label, solo artist or group if it sounds right then itThe Motorcity is heavily represented on this compilation. Firstly with three acts from legendary producer Richard "Popcorn" Wylie's Soul Hawk stable, The Mighty Lovers with their highly sort after "Ain't Gonna Run No More" (previously issued on a Soul Junction 45, SJ1002). Followed by Eric & The Vikings harmonious million seller, "Vibrations (Made Us Fall In Love)" and The New Holidays with their currently popular "Maybe So, Maybe No" and it's excellent flipside cover version of Jimmey "Soul" Clark's "If I Knew Then."

Fellow Detroiters The 21st, have all three of recordings for Joe Terrell's Joy label featured, "I Just Can't Forget Your Name" released twice with two different flipsides "The Sun Came Out"and "I Just Can't Forget Your Name" all featuring Willie Jones, later of the group "McArthur" on lead vocals. The final Detroit act is Energy MC2 with their previously unissued sweet soul outing "Juliane ". MC2 began their performing career as a energetic bunch of kids under the name of Congressional Funk who by their mid teens became The Soulful Hounds who not only recorded "Why Did You Leave Me Girl" for Ernest Burt's Magic City label but would feature on many of, Mad Dog & the Pups and Sweet Geraldine Magic City releases. Some of their band members would later join Ray Parker's band; Raydio and Parlete (part of the P-Funk family) helping George Clinton land the Mothership!

The Windy City is represented by The Five Crowns with their local hit "Just A Part Of Life" and both sides of it's follow up release "Beating Of My Heart" / "Got To Be My Baby" unusual in the fact that it is two different songs recorded using the same backing track!, three songs emanating from Chicago wordsmith's Gerald Dickerson and Charles Boyd and being produced by former Trends (ABC) group member, Emmett Garner Jr.

The final inclusion comes from Atlanta, GA group The Combinations with their highly desirable rarity "I'm Gonna Make You Love Me" recorded for the vanity Kimtone label. Complete with the recently discovered revelation that some of the members of The Combinations actually went on to become The M.V.P's who recorded the Northern Soul anthem for Buddah records "Turning My Heart Beat Up!"
Track listing:-
Mighty Lovers -Ain't Gonna Run No More-Soulhawk 1007 (1968) 2:16
The 21st-I Just Can't Forget Your Name-Joy 672 (1972) 2:40
The Final Chapter-This Time I'm Gonna Stay-(2016) Previously Unissued 4:28
Wilton Crump-Think It Through-Olive Branch 101 (1975) 3:13
New Holidays-If I Only Know-Soulhawk 1008 (1969) 2:30
Five Crown-Beating Of My Heart-Five-O 504 (1969) 2:55
The Final Chapter-Now I Know-New World 8006 (1980) 4:05
The 21st-The Thought Of Me Losing You-Joy 672 (1972) 3:19
Eric And The Vikings-Vibrations (Made us Fall In Love)-Soulhawk 1009 (1970) 2:37
The Final Chapter-I'm Coming To Rescue You-(2016) Previously Unissued 3:51
Five Crowns-Got To be My Baby-Five-O 504 (1969) 3:01
The 21st-The Sun Came Out-Joy 672 (1972) 2:33
The Final Chapter-Merry-Go-Round Of Love-(2016) Previously Unissued
The Combinations-I'm Gonna Make You Love Me-Kimtone 1001 (1968) 2:04
Five Crowns-Just A Part of Life-Five-O 503 (1969) 2:55
Energy MC2-Julaine-(2016) Previously Unissued
New Holidays-Maybe So Maybe No-Soulhawk 1008 (1969) 3:01
Wilton Crump-Give Your Love To Me-Olive Branch 101 (1975) 4:01
For a sample of sound files and purchase informations:-
http://www.souljunctionrecords.co.uk/SJCD5011.html
For Further information please contact Soul Junction at:
Tel: +44 (0)121 602 8115 or E-mail: sales@souljunctionrecords.co.uk