Home
›
Music
›
Record Collecting
Any customers here of the closing-down sale of Soul & Funk 45's from Silverfox records?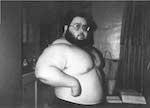 finelikewine
"ONCE UPON A TIME, I HAD A VINYL." http://www.discogs.com/user/permabulker
1,416 Posts
Advertised on facebook with the following offer:

"Here's the deal.....Just moved 60,000 45's into storage. This is my inventory which ive built up over the past 30 years dealing in rare soul 45's. Now i have a full time job i have very litle time to be dealing with this huge accumalition. So i have decided to try and clear as much as I can in Soul Packs. These are not surplus or fillers but hand picked which are listed on my website. Some 21,000 different titles. All have a retail value of between £10 to £30 each.So if you want a piece of them for a limited time I am offering 100 singles for £250 + £10 p&p. Choose from pack A 60's soul pack B 70/80's soul or pack C Funk 45's All are USA originals and all in near mint condition.
....Fill your boots !"

Sounds too good to be true, doesn't it?
I've received my pack today and I'm a bit disappointed to be honest. I contacted the seller and we are about to work something out.
Has anyone here ordered a package as well? Are you happy with the stuff you received?