Home
›
Announcements
MD Film Fest 2011 (downtown Bmore May 5-8): Harry Belafonte+John Waters!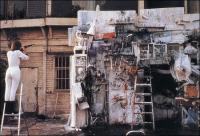 onetet
1,753 Posts
So as some of you know I'm a programmer at Maryland Film Festival. We've got an amazing line-up this year, 40+ features (most of them with the directors and/or stars presenting) and 60 or so shorts from all over the world.
Highlights include UNCLE BOONMEE, MEEK'S CUTOFF, John Waters presenting DOMAINE (he selects a favorite film for us each year), and members of Animal Collective presenting the Shaw Brothers' early-80s kung-fu freak-out THE BOXER'S OMEN.
For you rock-and-rollers we've got documentaries on PENTAGRAM, FISHBONE, and ALICE DONUT, and a short film co-directed by Dan Deacon and Jimmy Joe Roche.
For lovers of international film, we've got movies from Thailand, France, Democratic Republic of Congo, Portugal, Japan, Chile, Hong Kong, the Ukraine, Quebec, and Uruguay!
Our closing-night film is the documentary SING YOUR SONG, hosted by its subject, Mr. Harry Belafonte!
Check out the full line-up here:
http://www.md-filmfest.com/film-guide-2011.cfm