Home
›
Announcements
SF/Bmore: Medicine For Melancholy Opens!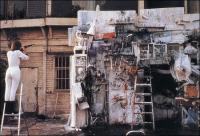 onetet
1,753 Posts
One of my favorite films of 2008, one that I helped bring to bmore in Maryland Film Festival 2008 and has gone on to get amazing reviews, opens theatrically in SF and Bmore (@ Charles Theatre) today...
At the time, it was the little indie film that could, promoted by photocopies fliers and word of mouth. Then IFC bought the film. Since then, star Wyatt Cenac has raised his profile as a correspondant on The Daily Show, and director Barry Jenkins has been highlighted by the likes of Indiewire and Filmmaker Magazine:
great review in City Paper today!!
http://www.citypaper.com/film/review.asp?rid=14523
recent NY Times review:
http://www.nytimes.com/2009/01/25/movies/25denn.html?_r=2&ref=movies
Indiewire Features on director Barry Jenkins:
http://www.indiewire.com/article/indiewire_profile_medicine_for_melancholy_director_barry_jenkins/
http://www.indiewire.com/article/in_his_...om_medicine_fo/
official site:
http://www.strikeanywherefilms.com/
trailer:
http://www.apple.com/trailers/independent/medicineformelancholy/