Home
›
Strut Central
remember the 5 year-old girl that was handcuffed?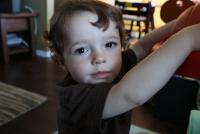 djanna
1,543 Posts
well, she's got nothing on this kid I worked with today. I was substituting in a Kindergarten/1st grade class for Emotionally Disturbed kids. This one kid started throwing chairs and tables, flipping desks over, ripping stuff off the wall, calling us "bitch ass niggers", throwing books at me and the other kids, the whole time the kids are playing on the computer trying to ignore him, but he's getting dangerous and the principal comes in and tries to restrain him. I take the rest of the class next door and then the police had to come and they made the kid clean up the room and they took him home because his aunt wouldn't come and get him. also, I got punched and kicked by another kid, called a "bitch", and was verbally threatened more than a few times. It was so crazy, one minute I was playing four square with the boy and the next minute he was calling me a fucking bitch and telling me about the knife he was going to bring to school next time.It was a very draining day, I'm going to be working with ED kids but this was beyond my capabilities, I've never seen behavior like this before.

I know some of you are special ed assistants too! got stories?