Home
›
Strut Central
TV Ontario - Nostalgia related
HAZ
3,373 Posts
Yo,I was thinking of old school tv shows this week. Lots of my favorite shows aired on a Canadian station called TVO or TV Ontario. I don't know if its still around but it was kind of like the Canadian PBS by my recollection. They had some original progreamming like "The Polka Dot Door" "Today's Special" & I guess they got stuff from other countries. They'd show Dr Who, Sesame Street, etc... I'm sure Canadian heads here will remeber a show called "Read All About It". That dude Duneedon used to freak me out: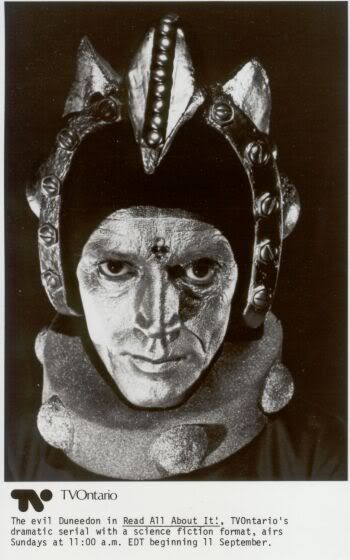 I started looking for info on these shows on google. There's a pretty solid "Read All About It" fan page, along with some stuff about "Today's Special" & "The Polka-dot door".I even found a site with audio clips of TVO theme songs. Here is a link to the site:
http://www.angelfire.com/tv2/tvothemesongs/
These are some of my favorites. The Dr. Who theme song is pretty awesome.
http://www.angelfire.com/tv2/tvothemesongs/drwho.mp3
Simon In The Land Of Chalk Drawings has some flavor:
http://www.angelfire.com/tv2/tvothemesongs/simontheme.mp3
Electric Company was frickin' BRILLIANT. I think I remeber JVC Force flippin this sample:
http://www.angelfire.com/tv2/tvothemesongs/electriccompanytheme.mp3
Edison Twins were kinda dope:
http://www.angelfire.com/tv2/tvothemesongs/edisontwins.mp3
Today's Special brings me back. I thought Jodi was hot. I think she works for CBC news now:
http://www.angelfire.com/tv2/tvothemesongs/todaysspecialtheme.mp3
For the Quebec/Francophone headz, here is the Passe-Partout Megamix
http://www.angelfire.com/tv2/tvo9/passetheme2.mp3
Peaceh