Home
›
Announcements
Make It Funky-Krafty Kuts-Killa Kela-Jimmy Swift B
hipsterave
42 Posts
Make it Funky presents...[/b]www.makeitfunky.cawww.myspace.com/makeitfunkyFUNK MONSTER'S BALL[/b]Saturday, October 27th, 2007Revival Bar & Stone Loungewww.revivalbar.com783 College St.2 Floors of Music! Featuring:Krafty Kuts (UK)[/b]www.kraftykuts.comThe Jimmy Swift Band (Halifax, NS)[/b]www.TheJimmySwiftBand.com Killa Kela (UK)[/b]www.killakela.comRobb G (Promo Records)www.robbg.comBig League Chu (Make It Funky)www.bigleaguechu.complus DJsCorey Dawkins (Funk'd Out)Farsbsie Vs Sunpredictable (Make It Funky)Zirca (Make It Funky)Dave Dub (DSV, Make It Funky)Mickey D (Make It Funky)Thunder (Funky Two-step) Email inquiries at [email]makeitfunkyparty@hotmail.com[/email]R.O.A.R., PLUR, 19+event (Id required)Funk'd out costumes & enjoyment highly encouraged!Advance Tickets $25, more at the door TICKETS AVAILABLE ONLINEat http://www.ticketweb.ca and http://www.nufunk.cadirect link here: http://www.ticketweb.ca/t3/event/EventListings?orgId=15910or buy tickets in advance at these fine outlets:Soundscapes - 572 College St. - (416) 537-1620Play De Record - 357A Yonge Street - (416) 586-0380 Rotate This - 620 Queen St. W ??? (416) 504-8447Shanti Baba - 546 Queen St. W - (416) 504-5034Sonic Temple - 5165 Yonge St - (416) 222-2004 Slinky Music / Moog Audio - 422 Queen St. W. - (416) 603-2600
Krafty Kuts[/b] Contagious Musiq / Against the Grainwww.kraftykuts.comwww.myspace.com/kraftykutsWhen you enter a DJ'ing competition, having never DJ'd before, and get to the finals, you know you must have chosen the right career path - Krafty Kuts was born. Having been responsible for the massively successful Finger Lickin' Funk EP, remixes of Flint and 2InDaBush as well as DJ'ing regularly under the Finger Lickin' banner, Martin Reeves aka Krafty Kuts is now firmly part of the Finger Lickin' family. He was voted Best International DJ at the Australian Dance Music Awards and the Face of Breaks 2003 at the International Breakspoll Awards. These were the ultimate accolades for his efforts. However, this success didn't just happen overnight. Krafty Kuts' first ventures on the wheels of steel occurred in the mid 80's when he was bitten by the hip-hop and Electro bug. It was during this period that he developed his cutting and scratching skills, which are now a trademark of his party rocking sets. While Krafty Kuts was rocking down the house with his DJ skills, he was also busy working on his own music. In 1996 he was signed to FSUK, one of the Ministry of Sound's offshoot labels. 3 EP's were released to critical acclaim, along with 'Gimme the Funk'; a one-off release for Fatboy Slim's label Southern Fried that was hammered by every DJ worth their salt. The success of these releases led to Krafty Kuts becoming one of the most in demand remixers within the UK dance music scene. Today, the list of people Krafty Kuts has remixed reads like an A-List, including the likes of Jurassic 5, Utah Saints, Arthur Baker, Eric B & Rakim and the classic 'Humanoid' by Stakker Humanoid. His remixing talents were cemented at the 2003 International Breakspoll Awards, where he won Best Remix for Afrika Bambaataa's 'Funky Heroes'. As well as dishing out killer remixes, he's also managed to compile 'Slam The Breaks On' 1 & 2, both classic overviews of the breakbeat sound. Whilst producing and remixing, Krafty Kuts has also managed to maintain his Djing commitments the world over, playing alongside such luminaries as Fatboy Slim, The Rolling Stones, The Prodigy, and Roni Size. Amazingly, Krafty still manages to hold down his residency club at Supercharged. Krafty's seminal music has been used for a Coca-Cola advert, Playstation 2, and for Guy Ritchie's film 'Mean Machine'. In 2003, he, along with production partner A Skillz, released their album 'Tricka Technology' on Finger Lickin' Records to critical acclaim featuring hip hop legend Kurtis Blow as well as new talents Real Elements and ever reliable funky bass player Dr Luke. Today, Krafty Kuts is still working harder than ever. At the 2004, 2005 and 2006 International Breakspoll Awards he took out the much coveted BEST DJ award,also winning best Breaks DJ at the recent M8 awards in Ibiza and has been booked solid ever since. Krafty has finished working on his debut solo album on Against the Grain featuring collaborations with Tim Deluxe, Ashley Slater, Be Spoke, Dynamite MC, Dr. Luke, A.Skillz and the Scratch Perverts, among others. In the words of Krafty himself, the album is going to be a monster!
The Jimmy Swift Band[/b]www.the jimmyswiftband.comwww.myspace.com/tjsbThe Jimmy Swift Band have been forging their own path in Canadian Music for the past seven years. During this time their energetic and improvisational live show has helped the band develop a cult like following throughout Canada and the U.S.They have performed 200 + shows a year for the past three years, selling out venues and packing dance floors across North America.The JSB sound is so original that critics and fans have come up with a new genre to define it - Rocktronica. Coming out of Halifax, Nova Scotia, JSB consists of Craig Mercer on guitar, vocals, and effects,Aaron Collier on keyboards and effects, Mike MacDougall on bass, and Nick Wombolt on drums. Each member brings their own strengths to a powerful sound which is greater than the sum of its parts. Their influences range from Daft Punk to Pink Floyd to Guns and Roses, and they meld aspects of these sounds together to create their original Rocktronica. JSB are currently touring in support of their third studio album, Weight Of The World.
Killa Kela[/b] Human Beatbox, Contagious Musiqwww.killakela.comwww.myspace.com/killakelaKILLA KELA is arguably one of the worlds most talented and forward thinking Multivocalists. From song writing to producing, sound tracks to sound effects, KK is at the forefront of the beatbox culture. Member of the Legendary ROCKSTEADY CREW, Plus head honcho of the UK collective SPITKINGDOM, He has toured worldwide many times over plus has a wealth of recorded material under his belt. He has performed/recorded along side such heavyweights as; Pharrel/N*E*R*D, Justin Timberlake, Travis Barker, DJ AM, Roots Manuva, DJ Craze, Z-Trip, Scratch Perverts, World Of DN'B, Does It Offend You? Yeah?, Shy FX, Plan B, Dizzee Raskel, Hadouken, Marc Ronson, Bassment Jaxx, Morcheeba, Super Furry Animals, Lady Sov, TestIcicles, Adam Freeland to name a few. His skills and creativity go from strength to strength. If you don't know, Get to know.
br />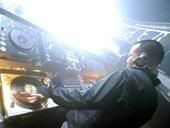 Big League Chu[/b]www.BigLeagueChu.comColin Chu, better known as Big League Chu, is simply the leading DJ talent in Canada's breakbeat scene today. After nearly a decade of DJing, his name is synonymous with the funky, party-happy sound that?s become Chu's rallying call - and it's one that crowds answer faithfully. Passion for music and fun are what motivates Chu, who plays the piano, flute and guitar, and counts the Dave Matthews Band and Public Enemy as his biggest musical influences. It's this good-natured respect for good times and eclectic sounds that has garnered this humble DJ of Hong Kong and Singaporean descent to such a steady stream of press, from underground publications like Tribe and Klublife to mainstream outlets like the Toronto Star and Eye weekly. As Make It Funky's main resident, Colin dynamic sets and down to earth nature has made him Toronto's most sought after performer.
Robb G[/b] (Promo Records) www.robbg.comBehind the decks, Robb G's known for speedy, continuous mixing charged with a head-banging body thrash. Seeing him live, there is no questioning that this is a man who truly loves what he does. He landed his first residency at the young age of 15 and in the decade and a half since, his hard work ethic and electric performances have taken him to Europe, across the US and more than 30 Canadian cities. He's had releases and remixes on Streetwise, Eastern Bloc, 2 Wars, Botchit as well as his own Promo Records imprint. Annie Nightengale played his track "Disaster", co-written with Paranoid Jack, so much on her acclaimed BBC Radio 1 show, that she invited the duo for a guest appearance. Robb G's upcoming single, titled "12 Inch Therapy", was declared "THE tune of Miami" by DJ Icey as it was played (sometimes twice) at every major event at this year's Winter Music Conference. When you add that Krafty Kuts is calling it "massive" and the Stanton Warriors are confessing to "busting it everywhere", it is a true hit in the making. With his label poised to drop 12 stellar releases in 2007, the support of all his peers behind him and a passion for everything he takes on, Robb G is set for a stratospheric year.He's been called "one of Canada's breakbeat pioneers" and is responsible for founding the country's first breaks label, Laidback Lab Records. Created in 1998, the imprint was an outlet for Robb to express his early exploits in music production as well as being home to the first releases of other soon to be stars such as Jelo. Robb's second release "Stick up kid" topped charts across the continent all the while gaining him the respect of his peers back home. The underground hit was the final icebreaker for him to penetrate the incredibly competitive Toronto DJ market. During the peak of Canada's rave scene in 1999, Robb was a resident for the now legendary Lifeforce productions. He was on the bill of every major event in southern Ontario, including Syrous's 6 year Anniversary with Daft Punk, Moonshine's over Canada Tour, Dose's "Throwdown" with the Freestyler's and Kickit's inaugural event with Adam Freeland & Q-bert. Email inquiries at [email]makeitfunkyparty@hotmail.com[/email]R.O.A.R., PLUR, 19+event (Id required)Funk'd out costumes & enjoyment highly encouraged!Advance Tickets $25, more at the door TICKETS AVAILABLE ONLINEat http://www.ticketweb.ca and http://www.nufunk.caor buy tickets in advance at these fine outlets:Soundscapes - 572 College St. - (416) 537-1620 Play De Record - 357A Yonge Street - (416) 586-0380Rotate This - 620 Queen St. W ??? (416) 504-8447Shanti Baba - 546 Queen St. W - (416) 504-5034Sonic Temple - 5165 Yonge St - (416) 222-2004Slinky Music / Moog Audio - 422 Queen St. W. - (416) 603-2600 More information and Group tickets can be arranged by emailing [email]makeitfunkyparty@hotmail.com[/email]presented in association with:

www.nufunk.ca
www.myspace.com/nufunk
Make it Funky is a Canadian based Nu Funk; Mid tempo Breaks, Rare Retro Grooves DJ/Turntablism, concert experience. Focusing on introducing new talent both live band and dj alike to the Toronto area, Make It Funky has quicky become the promo team towatch for. The combination of live acts with international djs hashelped to create a fresh new scene with a open-minded vibe. Some of the outstanding acts presented to date include: DJ Krafty Kuts (Brighton, UK), Afrika Bambaata (NYC), Malente (Hamburg, Germany) Freddy Fresh (Mineapolis), DJ Czech (Vancouver, BC), Mat The Alien (Whister, BC), Greg J (San Francisco, CA), Vinyl Ritchie (Victoria), Fort Knox Five (Washington, DC), Wax Romeo (Calgary, AB), Smalltown DJs (Calgary, AB), A-Skillz (Brighton, UK), All Good Funk Alliance (Washington, DC), MC Killa Kella (London, UK), DJ Love (Colorado, US), The Jimmy Swift Band (Halifax, NS), God Made Me Funky (Toronto, ON), King Sunshine (Toronto, ON), High Plains Drifter (Toronto, ON), Chameleon Project (Toronto, ON), Moses Mayes (Winnepeg, MB), Kobayashi (Montreal, PQ), Quartertones (Toronto,ON) Elastocitizens (Toronto, ON)... and the list goes on! And it all started by a group of fans who had the foresight and determination to bring the Canadian underground live funk scene & burgeoning international mid-tempo break scenes together, re-definining dj & live events in Toronto.