Home
›
Announcements
NOV 25 Make It Funky -KRAFTY KUTS TORONTO!!
hipsterave
42 Posts
......................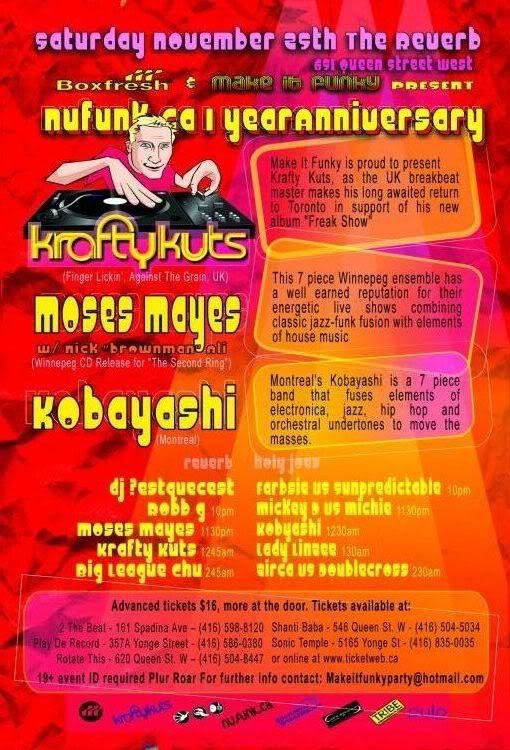 &

Present..
THE NUFUNK.ca 1 YEAR ANNIVERSARY PARTY[/b]
FeaturingTHE RETURN OF
(Against The Grain, Uk)In Support of his new album "Freakshow" www.KraftyKuts.com
Krafty Kuts is one of the worlds most sought after and respected dj / producers in dance music, he recently picked up the trophy for Best DJ at the Breakspoll 2005 awards for the second year running and will be releasing his debut solo artist album Freakshow on our Against The Grain label in Spring. The album features collaborations with a host of hot talent including Dynamite MC, Tim Deluxe, Ashley Slater, Dr Luke, Theo, Bespoke, Ed Solo and Chris Sargent. In typical Krafty Kuts style the music touches on hip hop and breaks with all the juicy bits in between. From fun loving funk to outrageous bassline breaks Krafty Kuts years of experience has served him well, it really is a corking album!Come 2003 he had an urge to revisit his hip hop roots and followed up a contact he made earlier in his record store years. A-Skillz, a young super talented DJ and producer was starting to make waves and Krafty Kuts organised a project for them to join forces and embark on a hip hop party breaks album. With the aid of Finger Lickin records the Trickatechnology album was soon under way and A-Skillz and Krafty Kuts were recording with legends such as Kurtis Blow, Dr Luke and Ashley Slater. Since then Krafty Kuts has released a string of 12 records and mix CDs and DJs nonstop around the world, from playing to 25,000 people at Field Day in Australia to the Grand Prix in China, Krafty Kuts fans span the world over. In between the parties he has been hard at work on his solo artist album Freakshow which is now finished and due for release in Spring 2006 on Against The Grain.
Moses Mayes[/b] w/ Nick "The Brownman" Ali[/b]
(Winnepeg, MB)
CD Release for "The Second Ring", Fusion 3 Records)www.mosesmayes.com
Check out this performance from Moses Mayes June 2006http://www.youtube.com/watch?v=xjuntmvaLb0
Classic funk grooves, slick guitar riffs, punchy horn lines, old school keys and turntable cuts - this is Moses Mayes[/b]. A sound defined by the vision of three students of groove with Herbie Hancock[/b], Jamiroquai[/b] and Prince [/b]as their mentors. Since 1999, the music of Moses Mayes has been moving people on the dance floor and from their stereos across North America. Their live performances have earned them a reputation as one of the best acts in their scene, playing to festival and club audiences and leading the nufunk fusion sound over the last 7 years. Add two full length releases, a three song ep, a Western Canadian Music Award and thousands of sales and you have an accumulation of years of experience in orchestrating grooves and exploring sonic frontiers.The result, ???Second Ring???, the third full length album from Moses Mayes [/b]produced by veteran dance floor killer Jamie Shields (the New Deal). [/b] At the forefront, the classic Moses dance-funk grooves and signature jazz horn playing. In the new, vocals by artists Sherry St.Germain, Ariane Jean and PHATT al, each of whom adds their own flavour to the Moses sound. The result, a new take on modern dance music, songs that incorporate elements from the genres of funk fusion, jazz, house and pop. It???s time to hit the dance floor with a different sound...the sound of Moses Mayes[/b].[SIZE=3]Born 'Nick Ali' [/b]on the small Caribbean island of Trinidad, the multiple award winning Brownman is the NYC-schooled prot??g?? to his teacher, Grammy-winning trumpet legend Randy Brecker[/b]. In the spirit of supreme trumpet genre-crossing visionaries such as Brecker and Miles Davis[/b], he tirelessly leads and composes actively for no less than 6 ensembles of his own and is a musical director and/or featured soloist in countless others; testament to his unparalleled diversity of musical vision and skills making him one of Canada's most in demand session calls for both Universal and Sony recording studios in forms of music ranging from be-bop to hip-hop. As a featured soloist he has appeared with Canada's leading Latin, urban, hiphop, reggae, island and DJ artists in addition to his foundational jazz milieu. With just under 150 recording credits to his name - many of these albums having won or been nominated for Junos (Canada's Grammy) - he is considered to be one of the most unique and provocative improvising trumpet players on the scene today, recently being called "Canada's preeminent jazz trumpeter" by NYC's Village Voice.
[/SIZE]
Kobayashi[/b]:

(Montreal)

Originally conceived as the jazzmans surrender tothe hip-hop beat, Kobayashis sounds have developed into anamalgamation of electronica, jazz, hip-hop and orchestral undertones.www.kobayashimusic.comwww.myspace.com/kobayashijazz

AND THATS NOT ALL! FOR THIS MASSIVE EVENT WE ALSO FEATURE:

Big League Chu (Make It Funky)Robb G (Promo Records)Lady LinzeeZirca VS Doublecross Farbsie Vs Sunpredictable (Make It Funky)Mickey D Vs MichieDj ?estquecest[/b]

THE REVERB / HOLY JOES 651 Queen st W

$16 Advance more at the door Advanced tickets available at:2 The Beat - 161 Spadina Ave ??? (416) 598-8120PlayDeRecord - 357A Yonge Street - (416) 586-0380Rotate This - 620 Queen St. W ??? (416) 504-8447Shanti Baba - 546 Queen St. W - (416) 504-5034Sonic Temple - 5165 Yonge St - (416) 835-0035 or online at www.ticketweb.ca tickets on sale Nov. 319+ Event ID Required PLUR ROAR For further info Contact [email]Makeitfunkyparty@hotmail.com[/email][/b]Make it Funky[/b] is a Canadian based Nu Funk; Mid tempo Breaks, Rare Retro Grooves DJ/Turntablism, concert experience. You are guaranteed an exceptional night of music, dancing and good fun. Focusing on introducing new talent both live band and dj alike to the Toronto area, Make It Funky has quicky become the promo team towatch for. The combination of live acts with international djs hashelped to create a fresh new scene with a open-minded vibe.

www.myspace.com/makeitfunky