Home
›
Announcements
Oct 21-Make It Funky Malente (Germany) TORONTO
hipsterave
42 Posts
Make it Funky Presents... German Electrofunk DJ / PRODUCER "MALENTE"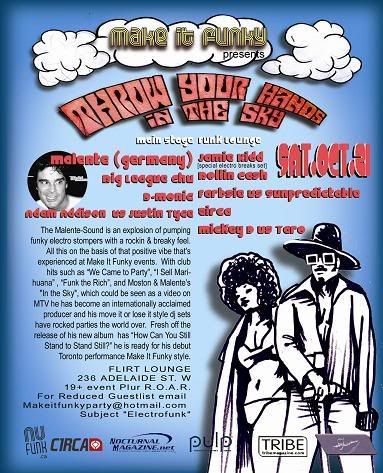 MAKE IT FUNKY PARTY
www.myspace.com/makeitufunky
Saturday, October 21st, 2006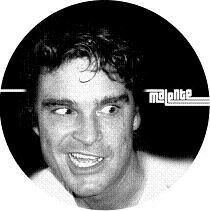 MALENTE (Unique Records)
www.malente.dj
and
www.myspace.com/malente
The Make if Funky crew just won't rest! In another suprising move Make it Funky is presenting the Canadian debut of European producer/DJ Malente, the first dates of his North American Tour! Continuing the positive vibe that's experienced at Make It Funky events, Malente, an internationally acclaimed producer, will bring his move it or lose it style of electro funk to rock Toronto! Acclaimed internationally for both his production and dj style Malente was voted by many to have played the best set of the Shambhalla music Festival among acts such as Krafty Kuts, Fort Knox 5 and the Freestylers.Check out the video for Moston and Malentes ??? In The Sky???
http://www.youtube.com/watch?v=bj3Y0binBm8
with Big League ChuD-MonicJamie Kidd (Special Electro-breaks set)Rollin Cash Adam Addison vs Justin Tyce (special Chicago house set)Farbsie Vs Sunpredictable Zirca Mickey D Vs Taro Flirt Lounge - 236 Adelaide West, Toronto, ON$12 with reduced email [email]makeitfunkyparty@hotmail.com[/email] with full names and subject "Malente Toronto"more at the door show starts 10PM ~ Two Floors ~ Superfly attire encouraged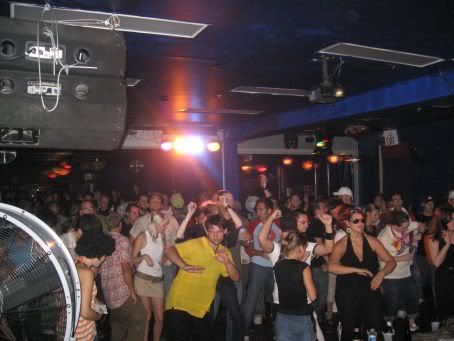 More on Malente
Malente (Unique Records) ARTIST / DJ / PRODUCER BIOGRAPHY:The German DJ and producer MALENTE has released a total of four albums on Unique Records since the year 2000. The origin of his name ???Malente??? is based on the fact that he was born in a small town in northern Germany, which is called Malente (since this question is frequently posed...). The Music: After his first 12???? ???Fertig???, Malente??s debut album ???The Spirit Of Malente??? was released in 2000 including the unforgettable single ???I Sell Marihuana???. The second album ???No Risk No Funk??? earned even more respect and positive reactions. Four tracks from this LP breezed through to single-releases! The Video of ???We Came To Party??? was even broadcasted by MTV on the ???Dancefloorcharts??? and by the German music-channel VIVA on the ???Dancevotecharts???.Since 2004, Malente releases his works very successfully on Unique Records and Moonbootique Records, the label of Moonbootica, at the same time. Following the Moston & Malente single ???In The Sky???, also broadcasted by MTV and VIVA, Moonbootique released the 12????????s ???Washington??? and ???Crowdrock/Tight With You???, two other dancefloor rockers. All tunes were highly rated by the DCC (German Club Charts) and only ???Dancefloor Whore/What You Got??? - an extraction of the in 2005 on Unique Records released album ???Rip It Up??? - got a better positioning. ???Rip It Up??? includes three new tracks by Malente and 10 remixes, whereof 8 were exclusively created for this album. At the End of 2005, Malente released the first 12??? ???Like A Freek??? from his forthcoming new album ???How Can You Still Stand To Stand Still???, which will be out on 11th August 2006. This piece of vinyl immediately entered the top 10 of the DCC and held its place for seven weeks. Moreover, it reached the No.1 in UKs Breakbeat Mailorder
www.streetwisemusic.com
. Malente began the year 2006 in february with ???Hot Daddy???, the new 12??? on Moonboutique, followed by the Malente pres. ManroX ???Theme From Manrox??? with three new tracks on Luscious Sounds (the label of Azzido Da Bass) at the end of March. In May, Moston & Malente released ???The 2 & Only??? on Splank! Records UK, wherewith they could win over English mags from I:DJ to Mixmag!Also available in the shops: The Compilation ???Top Of The Clubs Vol.30??? (Kontor), including a 40-minutes-set of Moston & Malente. The second single from the new album, named ???For The Revolution???, will be out in June 2006 on Unique Records. Remixes of this tune were made by Mason (Great Stuff/Middle Of The Road/ NL), Smoove (Acid Jazz/Wack!/ UK) and the Ex-BronxDog / Ex-Wiseguy (Mister Ohlala) DJ Regal (AUS). The appeal of his unique style can be seen by the long list of remixes he has already made: among others there???s Louie Austen, Thomilla, Groove Rebels, Bob Sinclar, DJ Friction, The Strike Boys, Frank Popp Ensemble, Monosourround or Le Hammond Inferno. Another indication are his many DJ gigs not only in Germany, but worldwide. Solely in 2005, he travelled the USA, Canada, Australia, Thailand, Belgium, the Netherlands, Switzerland, Russia, Greece and other countries. When Malente is playing one of his outstanding DJ-sets, party is to be expected and no puristic bullshit.The Malente-sound is not simply ElectroHouse. It is more pumping Electro-House stompers with a rockin??? & funky feel - and this on the basis of that typically positive Malente-Vibe! No doubt it???s easier and better to listen to that than to couch in terms.Discography:Malente ??? How Can You Still Stand to Stand Still (2-LP/CD) (Unique)Malente ??? For The Revoltution (12") (Unique)Moston & Malente ??? The 2 & Only (12") (Splank!)Malente pres. Manrox ??? Manrox EP (Luscious Sounds)Malente ??? Hot Daddy (12") (Moonbootique)Malente ??? Like A Freek (12") (Unique)Malente - Mashed Up Funk Vol.2 (lim. Promo only)Malente ??? Rip It Up (2-LP/CD) (Unique)Malente - Dancefloor Whore (12") (Unique)Moston & Malente ??? Crowdrock/Tight With You (12") (Moonbootique)Malente - Mashed Up Funk Vol.1 (lim. Promo only)Malente - Washington (12") (Moonbootique) Malente - Axel Fireflies (lim. Promo only)Moston & Malente - In The Sky (12") (Moobootique)Malente - We Came To Party (12") (Unique)Malente - Till I Die (12") (Unique)Malente - Subway E.P. (12") (lim. Promo only)Malente - Funk the Rich (MCD/7") (Unique)Malente - No Risk No Funk (2-LP/CD) (Unique)Malente - Don't Stop (12") (Unique)Malente - I Sell Marihuana (12") (Unique) Malente - The Spirit of Malente (2-LP/CD) (Unique) Malente - Fertig (12") (Unique)Remixes:Le Hammond Inferno ??? Speech Defects (Malente Remix) (Bungalow)Monosourround ??? Cocked Locked And Ready (Malente Remix) (Citizen) Phunklarique ??? Saturation (Malente Vocal Remix) (Hammerskj??ld)Groove Rebels - Tetris (Malente Remix) (Polo)Barry Lipmann ??? Exotic Drums (Malente Remix) (Sensorama)Elektrostatic ??? Free Your Mind (Malente Remix) (Klanggymnastik)Duptribe ??? Casino Royal (Malente Remix) (Hilltribe)Tango Fusion Club ??? Bandoneon Acorazado (Malente Remix) (Tango-Go)Louie Austen ??? Heaven (Malente Club Mix) (Universal)Louie Austen ??? Heaven (Malente Dub) (Universal)Imp-Act ??? Ganja Weed (Malente Remix) (Traktor)All Good Funk Alliance - Watch Out! (Malente's Oldschool Remix) (Funk Weapons) Der Plan ??? Deutschland bleiche Mutter (Malente Remix) (Surprise)Rivera ??? Another Man (Malente Remix) (Lounge)DJ Friction - Soulsonic (Malente's No Funk Remix) (Four Music) MPS Re
mixed: Volker Kriegel - Zoom (Malente Re-Interpretation) (Universal Jazz)Strike Boys - Everybody (Stereo Deluxe)Thomilla - Slap That Bitch (Polydor) Bob Sinclair - Ich Rocke (Edel)Frank Popp Ensemble - Hip Teens (Unique)Dumas - Les Filles Elastiques (Downsall Plastics, BE)Cubismo Grafico - Blissful (Escalator, JPN) Rocko Schamoni - CDU (Virgin)Le Hammond Inferno - (Not on the) Guestlist (Bungalow)Taverne du Lac - Turtle E's (Lounge Records)Kulturni Program - Easy Driving (Bungalow)Sputnik 32 - Barcelona/Frankfurt (Elbtaler Schallplatten)Herr Spin - Ich will Dich nicht mehr (NRW Records)