Home
›
Announcements
Soul Fu Radio Tonight - Funk Hip Hop Online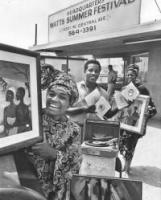 pup
133 Posts
Hey Strutters and Soul Fu Fans,
Tonight at
www.uclaradio.com
from 6 to 8 pm Pacific is the one and only Soul Fu. All the rare funk, underground hip hop and shit talk you need to get you through your Wednesday night.
If you can't tune in live, you can listen to the archived shows at
www.soulfuradio.blogspot.com.
I've posted some of our recent play lists there so you can see what we're up to.
Hope to talk to you soon,
Eric