Home
›
Announcements
Online Funk Hip Hop Show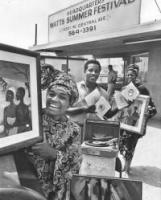 pup
133 Posts
Each Wednesday night from 6 to 8 pm Pacific on
www.uclaradio.com
, Eric Rice (Pup) and Bobby D bring you the best in rare funk, underground hip hop, and shit talk about Kung Fu (among other things).
Tomorrow night, Somalian Deep Funk DJ Keynaan will be in the studio tearin' shit up with his fast and furious mixing.
And of course, Assgettin' Andy will be in the house! (If you don't know Andy, tune in. Your life will be better for it.) CLEAN!!!
also check out the archive at
www.uclaradio.com/archive
for previous shows, including Mike Vague on 3/2 and Danny Halloway on 3/9.
Plus there is always the Soul Fu Radio stream at live365
http://www.live365.com/stations/310816
, currently in rotation is the nerd fest Tom (of Dollar Bin Fame) and I call Funk Battle 12! 5 hours of uninterrupted rare joints and geeking out.
Enjoy!
pup