Home
›
Announcements
Tonight 7/21: Roc Raida * Sake 1* Teeko*B-Cause SF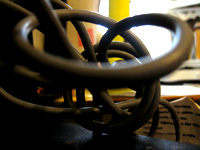 peacefulrotation
3,481 Posts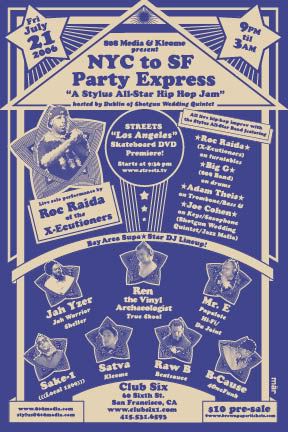 LIVE AT CLUB SIXJuly 21st 2006Stylus All-Star Hip Hop Jam featuring Roc RaidaFeaturing live solo performance by Roc Raida of theX-Ecutioners.Straight improv with The Stylus All-Star Band,featuring:Roc Raida (X-Ecutioners) on turntablesTeeko (dollar Bin Quintet/4onefunk)BigG (808 Band) on drumsAdam Theis on Trombone/Bass and Joe Cohen onKeys/Saxophone (Shotgun Wedding Quintet/Jazz Mafia)Bay Area Supa-Star DJ lineup:Sake-1 (((Local 1200)))Mr. E (Papalote Hi-Fi/Da JointJah Yzer (Jah Warrior Shelter)Ren The Vinyl Archeologist (True Skool)B-Cause (4OneFunk/Dollar Bin Quintet)Raw B (Beatsauce)Satva (Cleome)Hosted by Dublin (Shotgun Wedding Quintet)The West Coast's premiere live improvisational Hip Hopevent, Stylus highlights the live roots of Hip-Hop andthe future of the funk. July 21, 2006, Stylus presentslegendary DJ and scratch pioneer Roc Raida of theworld famous X-Ecutioners turntablist with The StylusAll-Star Band and the Bay's dopest DJs.
www.808media.com
Plus "Streets"Los Angeles DVD PremiereStarts at 9:30Featuring-Paul RodriguezGuy MarianoDanny MontoyaJeremy RogersPat DuffyMike MoGreg LutzkaJP JadeedResse ForbesAnd Many More LA Rippers(www.streets.tv)Friday, July 21, 2006. 9 p.m. - 3 a.m. Club Six, 60Sixth St., San Francisco, CA 94103,
www.clubsix1.com
Info: [email]stylus@808media.com[/email], (415) 531-6593,
www.808media.com.
Presented by 808 Media, Kleome.Sponsored by Scion. $10 pre-sale @
www.brownpapertickets.com