Home
›
Strut Central
Danetta the Starlets: Real Digger Stories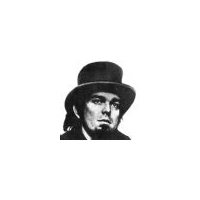 luck
4,077 Posts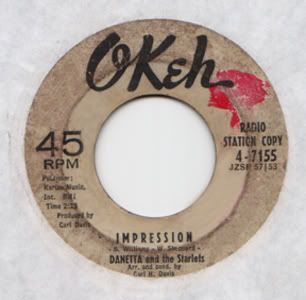 (We're Going Steady) You Belong To Me / Impression on OKeh.
A story:
I picked this thing up in the basement of Chicago's "Gaia Movement" (real bottom-of-the-barrel scrummage, now defunct) four years back. Things arrive at this, the most incestuous of all thrifts, from large and very literal dump boxes placed about the city. Once inside, the smell is the singular odor of closet neglect, cat dander and concealed mildew. But, hey: when your girlfriend is looking at the used books, if you push past the gilded, patterned caftans and oversized chain belts, you'll find a creaky back staircase (that is in no way a secret). Down to the basement.
It's one of those large city rooms that belies an ostensibly industrial past: a giant barred, now opened, metal door. Shelved work closets behind the hippie curtain dividers. A wide wooden stairway, leading upward and abruptly blocked off by newer flooring for the folks up top. Really: this is a tacit devolution you can stand in the midst of and feel poorer for in the process. Also: It's apparently not far from the underground El, because when a Blue Line train passes, going South from Damen to Division, the walls shake like a 3.5.
There are odd wet spots on the floor and walls. White paint alone holds up the failing spackle and crumbling concrete. Is this a cavern? Because there are honest-to-God dirt stalagmites.
I have NEVER pulled heat here. Nobody has.
I have no idea why I am here.
"At least there are some records here," you think to yourself, pitifully (out loud?), as the LP spines crack and paper bits fly upward at your slightest touch. Black mold hits your nostrils like your ex's Body Shop White Musk. You try, stupidly, to only exhale.
This is one of those spots that you succumb to thinking like a "hack rap producer" just to entertain yourself: "Wow! A TK label. I could flip that West-Coast style."
After some time has passed, and your fingers graze your second, third 101 Strings or fifth, eighth Donnie Elbert you begin to pray, desperately, for a Toddlin' Town or Twinight you don't have. Clinched: just pitiful.
Today, though, huh: just sitting there smiling up at you on top of the Matchbox cars and loose marbles: an OKeh Radio Station Copy by a group you've never heard of. Huh. Huh. You hope it's the secret Tangeers recording they had to destroy before Scepter realized they were still, secretly, with Carl Davis and Company.
There's a red paint splotch on both sides in the exact same location, which means that this is somehow purposeful. It's a bright red stop sign that you should take this in your hands, pick it up, and leave this hellcrotch and never come back. You don't remember how you got outside, or if you even paid for your find. You might have even thoughtlessly hurt your girlfriend's arm in the rush to get to fresh air.
But you have something with you that will, you're sure of it, validate your very existence when you plunk it upon your Technics. Faith among agnostics; funny how that works.
-----------------------------
So today, whilst flipping through my pitiful little collection (somewhere between the odd Chickory and Detroit 45s [how I did I get THOSE?]), I was suddenly met with this hot little piece. Catalogue number indicates that it's either early 1962 or late 1961. I glean from Google that this female soul vocal is on the "Rarest of the Rare, Vol. 9" compilation, which leads me to believe that standards are slipping amongst the swarthy, bespectacled "Northern Soul" legions.
It could use a cleaning.
I like it all right, I guess.