Home
›
Music
›
Vinyl Wants / Trades
70+ trades from lil' dude to very big dude

Danno3000
2,846 Posts
Now that I'm no longer dealing full-time, I have far more records than I want or need. Many of these records are inexpensive pieces. I'd like to trade them with you. Take a bunch and send me one record in return or something like that. I'm extremely flexible, particularly since I have a lot of this stuff in quantity. Scroll down for the bigger pieces, of which there are several. Lots more to come, too. What doesn't go here will eventually end up on ebay or on some sort of set sale, but I'm far too busy and lazy for this to happen anytime soon. So trade with me.
I'm looking for jazz, psych, funk, whatever. I don't need breaks or soul. I'm not big on 45s.
Conditions very, but most are at least VG+.
Feel free to ask me questions. I can make samples if necessary.
The following are worth aproximately $25 or less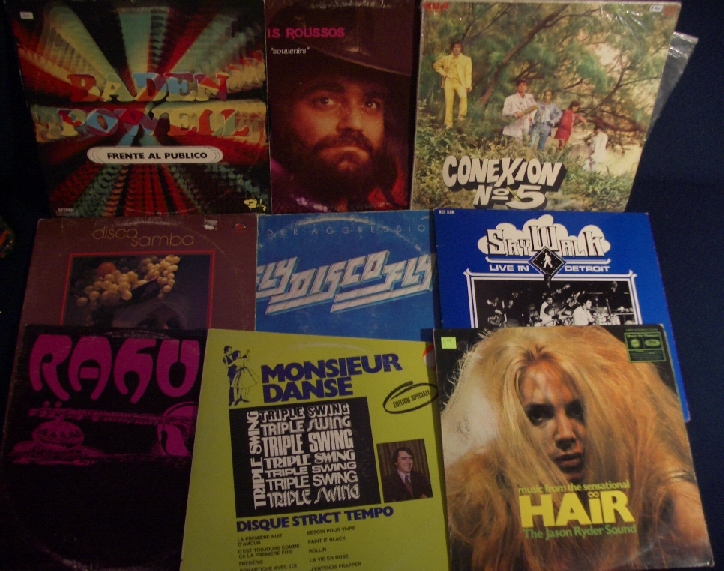 Top to bottom, left to right[/b]
Baden Powell-Frente al Public
Demis Roussois-Souvenirs-"Midnight is the time I need you" is just way too hot for this to be dollarbin; so good
Connexion No. 5-s/t-Pakora-endorsed Argentine flower-power psych (VG)
Two Man Sound-Disco Samba-Super classic "Que Tel America"
Tender Aggression-Fly Disco Fly-Euro funk/disco
Skywalk-Live in Detroit-CBC fusion
Rakul-s/t-Weird sitar record from Concordia university in Montreal
?-Monsieur Danse-Quebec Ballroom dance LP with "Sunny" and "Paint it Black"
The Jason Ryder Sound-Hair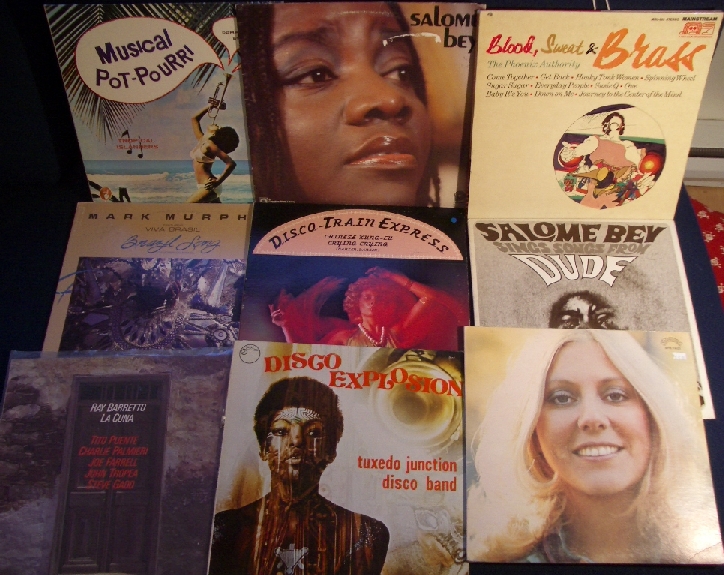 Top to bottom, left to right[/b]
Tropical Islanders-Musical Pot-Pourri--sweet Island jazz version of "Oye Como Va"
Salome Bey-s/t-"Hit the nail right on the head"--Canadian Talent Library LP
Phoenix Authority-Blood, Sweat & Brass
Mark Murphy-Viva Brasil
?-Disco Train Express--exploito disco LP with a great instrumental version of "superstition" with the break, also "pick up the pieces", very good, Quebec-only
Salome Bey-Sings Songs From Dude--Salme Bey sings on Galt MacDermot's Kilmarnock label
Ray Barretto-La Cuna
Tuxedo Junction-Disco Explosion--Best version of "One Note Samba"; ok, that's not true, but it's definitely the weirdest version
Renee Martel-Reflexions--Waxing Deep Classic; funky female pop from Quebec with one great dancefloor track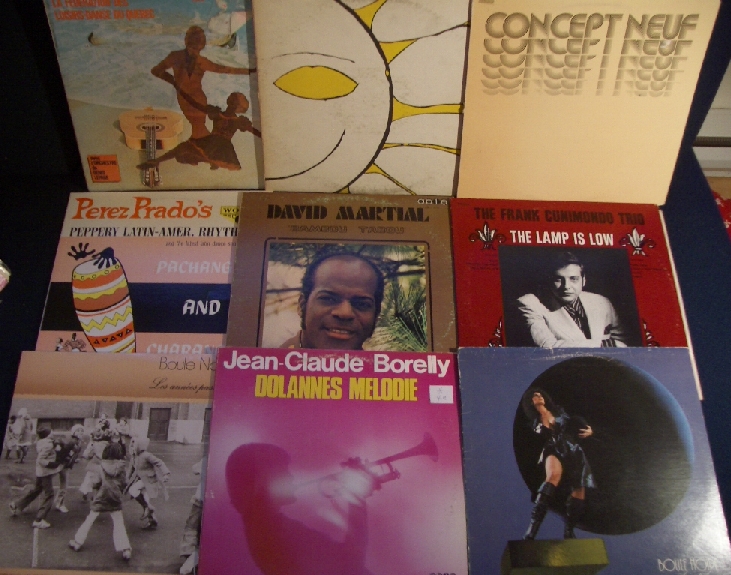 Top to bottom, left to right[/b]
Denis Lepage-s/t--Quebec jazzfunk on "entre deux joints"
Jean Pierre Ferland-s/t--Loops for days on this double LP; for a while this was a $40US record, but no more I think
Concept Neuf-s/t--Quebec funky porg; Lots of material for the sampler but not as good as their farer other LP
Perez Prado-Pachangas and Charangas
David Martial-Bambou Tabou--dancefloor afrofunk on "tamba"; the infamous AMC Warwick plays this out
Frank Cunimondo-Lamp is Low
Boule Noire-Les Annees Passent--the title cut is a sweet cut with a sly stone style breakdown; veyr good--for a while I could sell this for $50
Jean-Claude Borelly-Dolannes Melodie--one great wahwah crime funk cut
Boule Noire-Aimer D'amour--"Barbados Girl" in French; basically a Quebecois Don Blackman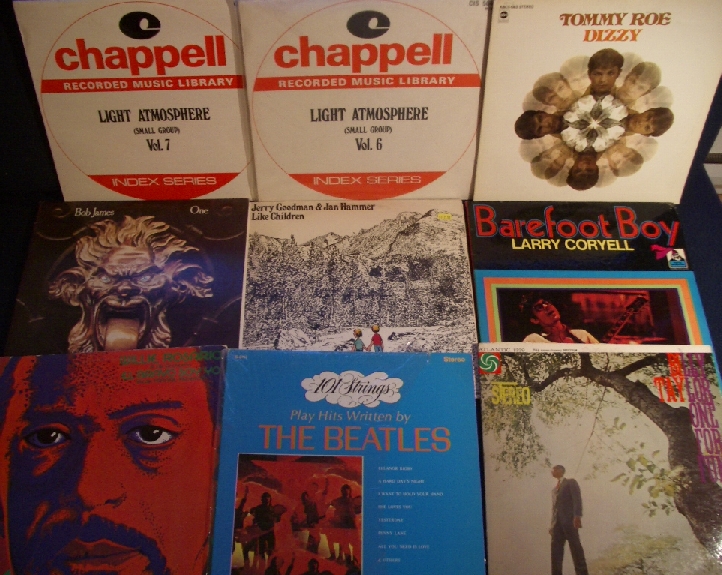 Top to bottom, left to right[/b]
Light Atmosphere 6
Light Atmosphere 7
Tommy Roe-Dizzy--classic break
Bob James-One--classic break
Jan Hammer-Like Children--fantastic break
Larry Coryell-Barefoot Boy--flying dutchman fusion
Willie Rosario-El Bravo Soy Yo
101 Strings-Plays the Beatles--"blues for guru" is a great track
Billy Taylor-One For Fun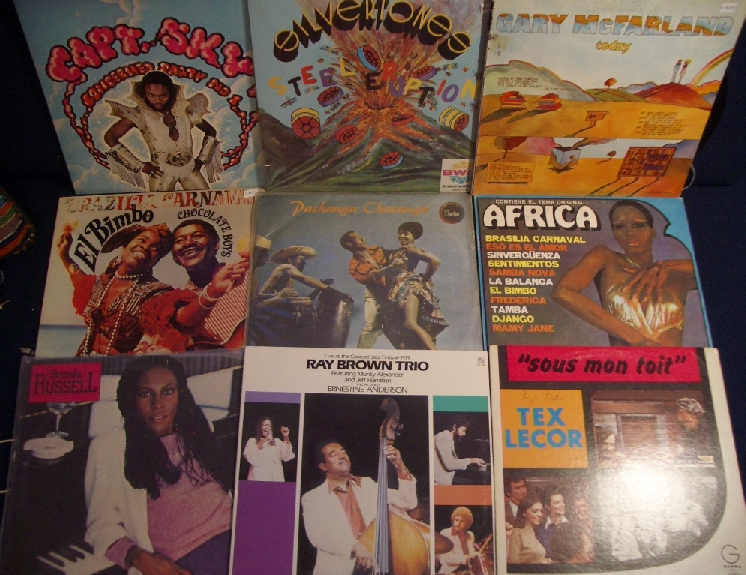 Top to bottom, left to right[/b]
Captain Sky-Concerned Party
Silvertones-Steel Eruption--Steels band funk that folks are buying for $50+!?; I don't need more than $20 in trades for this
Gary McFarland-Today-on Skye
Chocolate Boys-Brazilia Carnaval--Classic latin funk; 'El Caravanero", "Voltaire Pier"
Leo Soto-Pachanga
Various-Africa--I think this is basically an El Chicles thing, a couple really good tracks like "Samba Nova", "Tamba", "Mamy Jane"
Brenda Russell-s/t--classic sample on "A Little bit of love"
Ray Brown Trio-with Monty Alexander and Ernestine Anderson
Tex Lecor-Sous Mon Toit--one midtempo organ funk cut, Quebec-only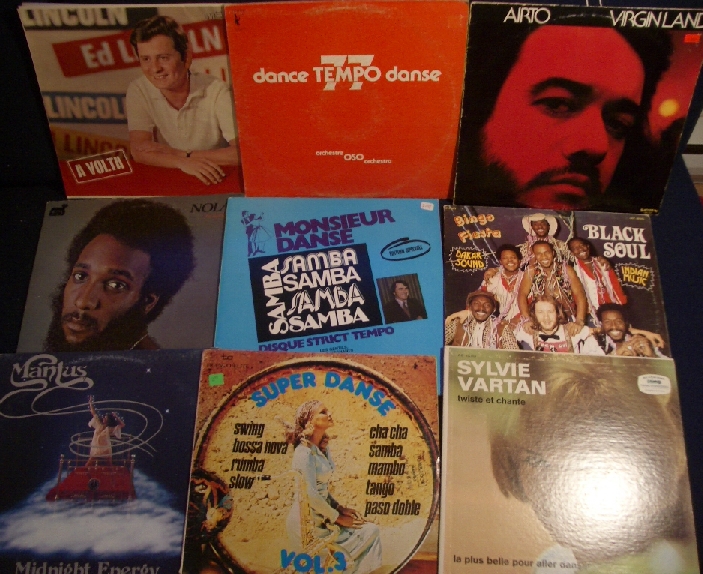 Top to bottom, left to right[/b]
Ed Lincoln-A Volta
Oso-Dance Tempo 77--Quebec exploito LP on a tiny label with TSOP, Oye Como Va, Wow (good!), SWAT, and Sunny--pretty good and plenty obscure; I should probably ask more than $25 in trades for this, but whatever
Airto-Virgin Land--"Peasant Dance"
Nolan-No Apologies
?-Monsieur Danse--Quebec Ballroom dance LP with "Sunny" and "Paint it Black"
Black Soul-Bingo Fiesta--"Africa Africa" is a seriously good afrofunk track
Mantus-Midnight Energy--"Dance it Freestyle", a better mix than the 12"
Various-Super Danse 3--Random Quebec bossa; decent but not brilliant
Sylvie Vartan-Twiste et Chante--"Ne T'en vas pas" is upbeat french pop that always got ladies dancing in Montreal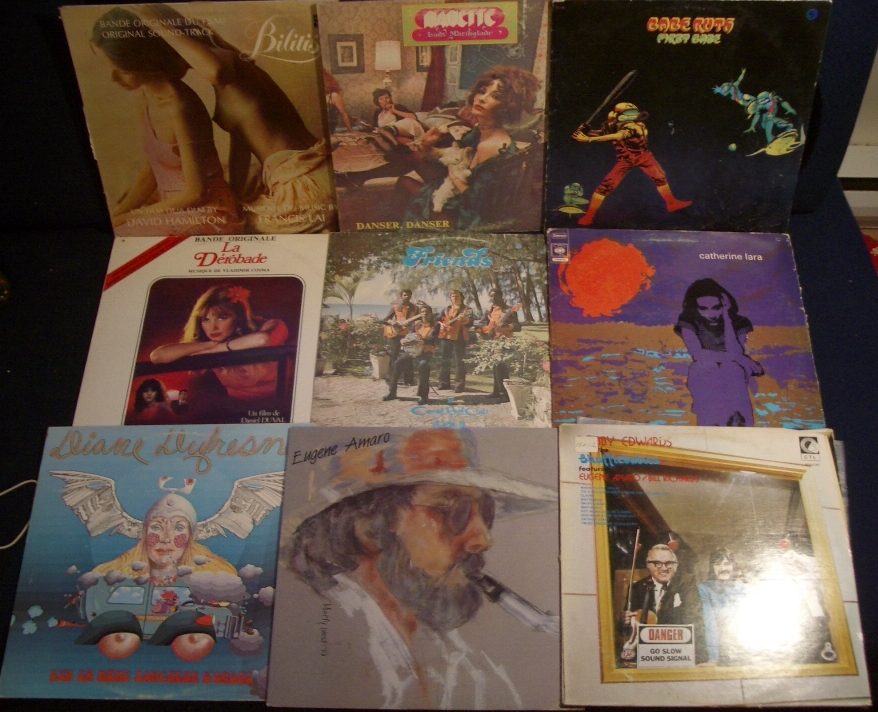 Top to bottom, left to right[/b]
Francis Lai-Blitis--Loops
Nanette Workman-s/t--Quebec funk rock, cool version of Lady Marmalade (for real)
Babe Ruth-First Base--"The Mexican"; K's favourite record of all time
Vladimir Cosma-La Derobade--Cosma OST
Friends-Coral Reef Club--People are always asking me for this oddball reggae LP; whatever--it's cheap
Catherine Lara-s/t--I don???t remember why I have copies of this; maybe there's a loop or sample? People always wanted this
Diane Dufresne-la meme longeurs des ondes--Three years ago this was a $50US record for about two minutes; one of the hallmarks of the Beatdawg ILL BOSSA SCAT RARE hustle
Eugene Amaro-s/t--Tiny label jazz and bossa from the regular CTL and CBC roster
Bobby Edwards-s/t--Canadian Talent Library jazzfunk; two pretty decent cuts; rare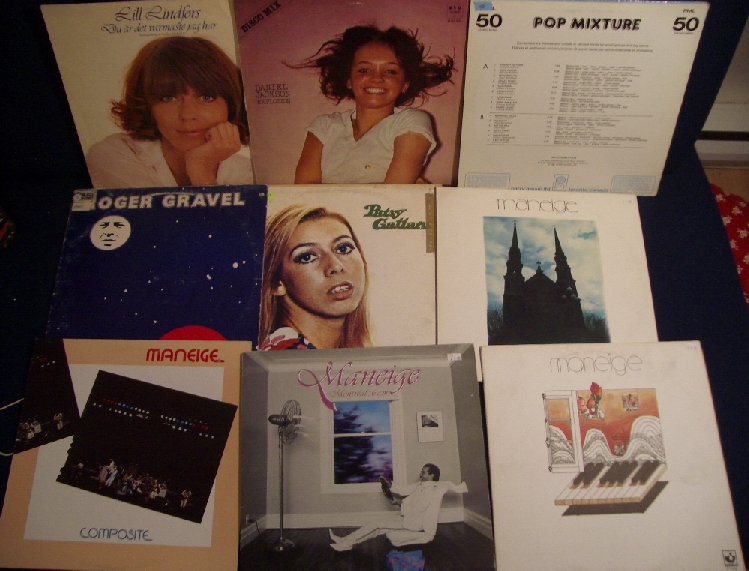 Top to bottom, left to right[/b]
Lill Lindfors-Du ar Der Varmastje jag har--Swedish; "You are the Sunshine of my life"
Daniel Jackson-Explosion
Hot Connection-Pop Mixture--Parry Music Library joint with lots of stuff for the sampler; really good open slap bass for those who need it
Roger Gravel-s/t--Euro funk and the like for euro types; some dude is trying to sell this for $100 on ebay--huh?
Patsy Gallant-Upon My Own--Canadian funk/rock; one really solid Sly Stone style track
Maneige
Maneige
Maneige
Maneige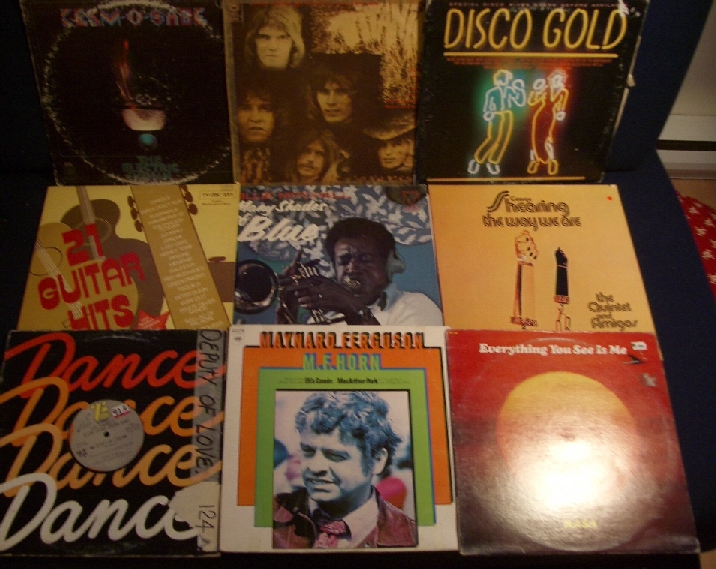 Top to bottom, left to right[/b]
Electric Indian-Keem-o-sabe--Classic breaks and whatever
Titanic-Best of--Free to anybody I trade with who wants it

br />Various-Disco Gold--Serious heat from Curtis Mayfield/Patti Jo on "believe in me"; massive track!
?-21 Guitar Hits--Best version of scorpio with break
Blue Mitchell-Many Shades of Blue--jazzfunk
George Shearing-The Way We Are--Aside from the break, it???s just excellent MPS jazzfunk
Don Armando-Deputy of Love 12"--I must confess to be the deputy of love!
Maynard Ferguson-M.F. Horn--"Chala Nata" is a fantastic dancefloor cut; if this was privately pressed it would be worth big bucks
Rasa-Everything You See is Me--classic loop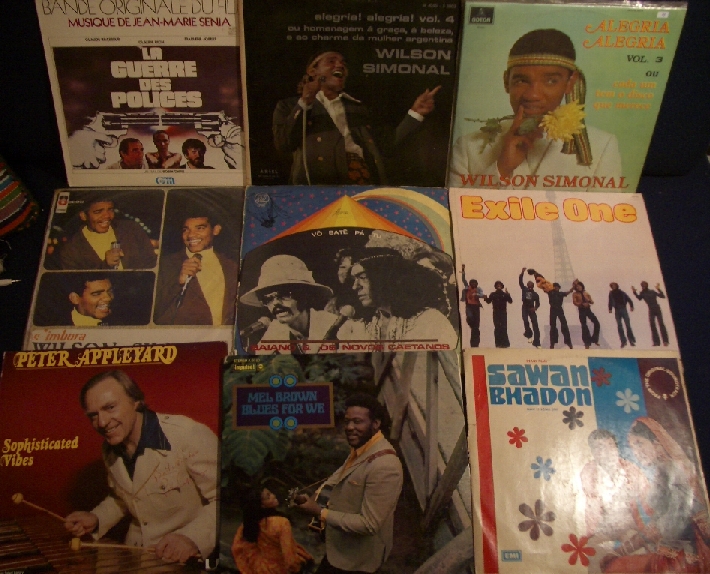 Top to bottom, left to right[/b]
Jean-Marie Senia-La Geurre Des Police OST--Samples and OST jazz
Wilson Simonal-Alegria Alegria 4--Brazilian funk
Wilson Simonal-Alegria Alegria 3--Brazilian funk
Wilson Simonal-S'imbora (VG)
Baiano & Os Novo Caetanos-Vo Bate Pa Tu VG--Seriously underrated Brazilian Funk (VG)
Exile One-s/t--Island funk on "Dominican Strut"
Peter Appleyard-Sophisticated Vibes--Canadian Talent Library jazzfunk
Mel Brown-Blues for We--Jazzfunk on impulse
Sonik Omi-Sawan Bhadon--Asha Bhosle freakout; much sample material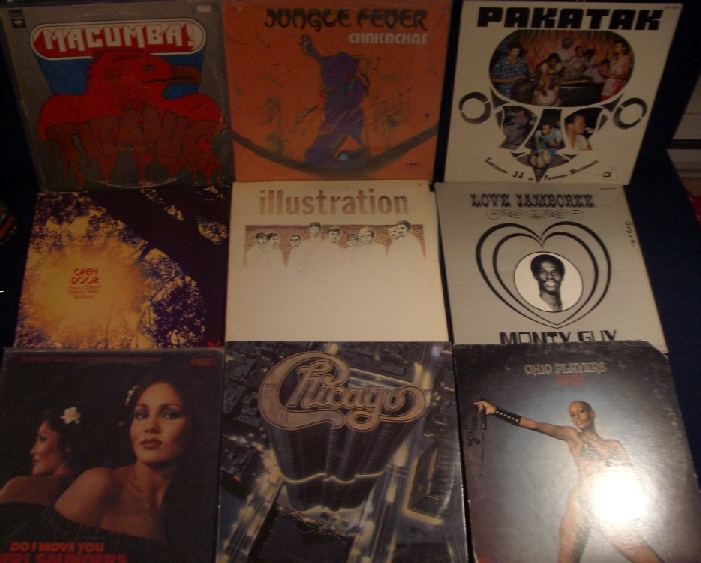 Top to bottom, left to right[/b]
Titanic-Macumba
Chakachas-Jungle Fever--"Jungle Fever"
Pakatak-s/t--Deep afro jazz from Guadaloupe
Francy Boland Kenny Clarke Big Band-Open Door
Illustration-s/t--Blood Sweat and Tears knock-off; very good
Monty Guy-Love Jamboree--$550--Private press funk with the pazants and melvin sparks; it's not really worth $550 unless you're marcofunk, let's try $25 instead
Merl Saunders-Do I move You--Discofunk; really good version of "long train running" and "another star"
Chicago 13-"Streat Player"--people, it's SEALED!
Ohio Players-Pain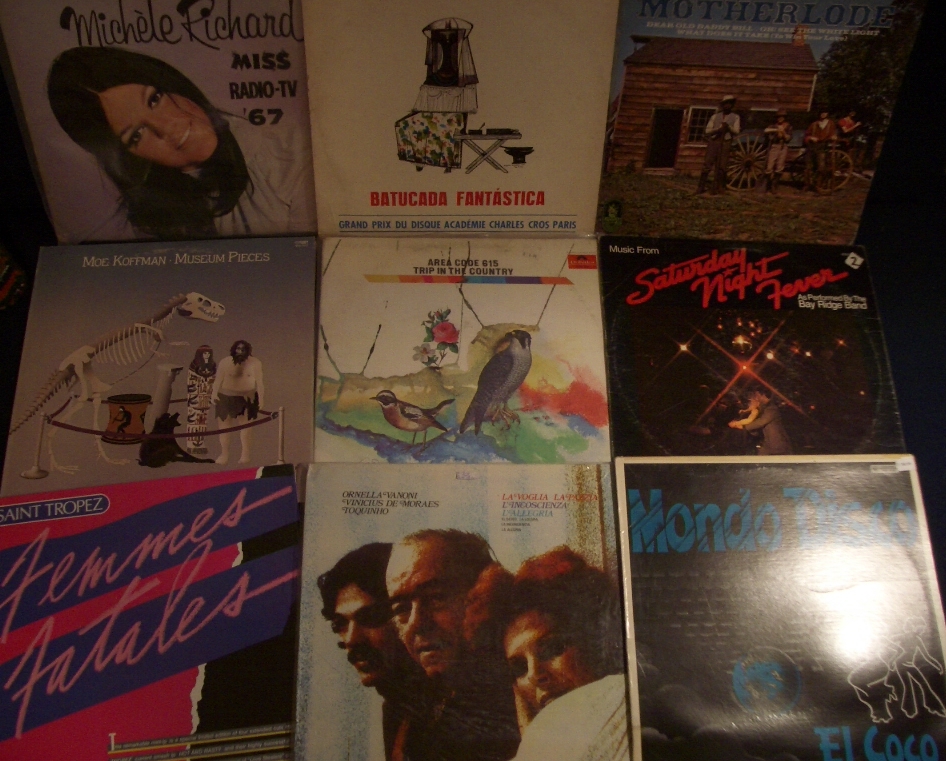 Top to bottom, left to right[/b]
Micele Richard-Miss Radio-TV '67--Rare dancefloor cover of Mas Que Nada; used to be a virtual grail in Japan (VG)
Ritmistas Brasileiros-Batucada Fantastica--Batucadas compiled on Brazilian Beats 2
Motherlode-When I Die--Classic Shadow Break
Moe Koffman-Museum Pieces--Canadian jazzfunk with a break
Area Code 615-Trip In The Country--"Stone Fox Chase"; do people still look for this? Good break track, regardless
Bay Ridge Band-Saturday Night Fever--Disco Exploito LP with one very good disco funk; if this was privately pressed it would cost a fortune
Sain Tropez-Femmes Fatales-ss
Toquinho & Vinicius & Ornella Vanoni-La Voglia???--"Sin Miedo"--heatrbreaking bossa that is just so very very pretty; I love this track
El Coco-Mondo Disco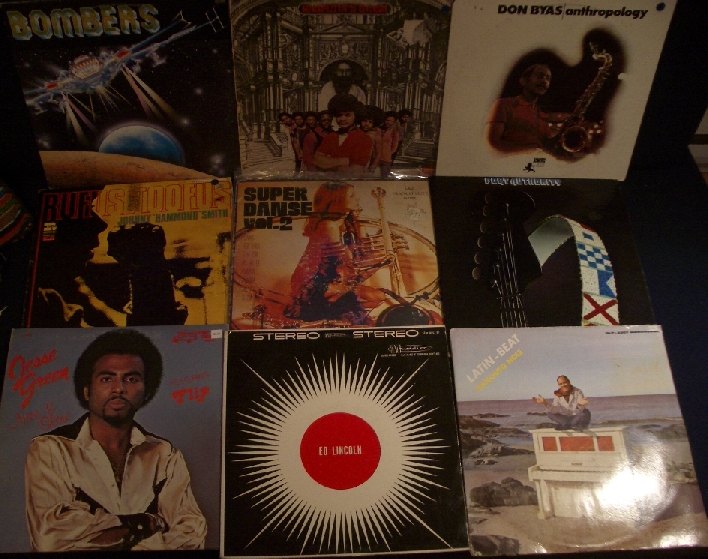 Top to bottom, left to right[/b]
Bombers-s/t--Huge break and a version of "The Mexican", soufriere's favourite tune
Rasputin's Stash-s/t
Don Byas-Anthology
Johny Hammon Smith-Rufus Toofus
Various-Super Danse 2--Quebec ballroom record with a good mod version of "watermelon man"
Port Authority-s/t
Jesse Green-Nice and Slow--"Flip" and I think some northern soul; whatever; all I know is that some people want this
Ed Lincoln-seu Piano E Seu Orgao Espetacular
Pachito Nole-Latin Beat

The following are worth between $25-50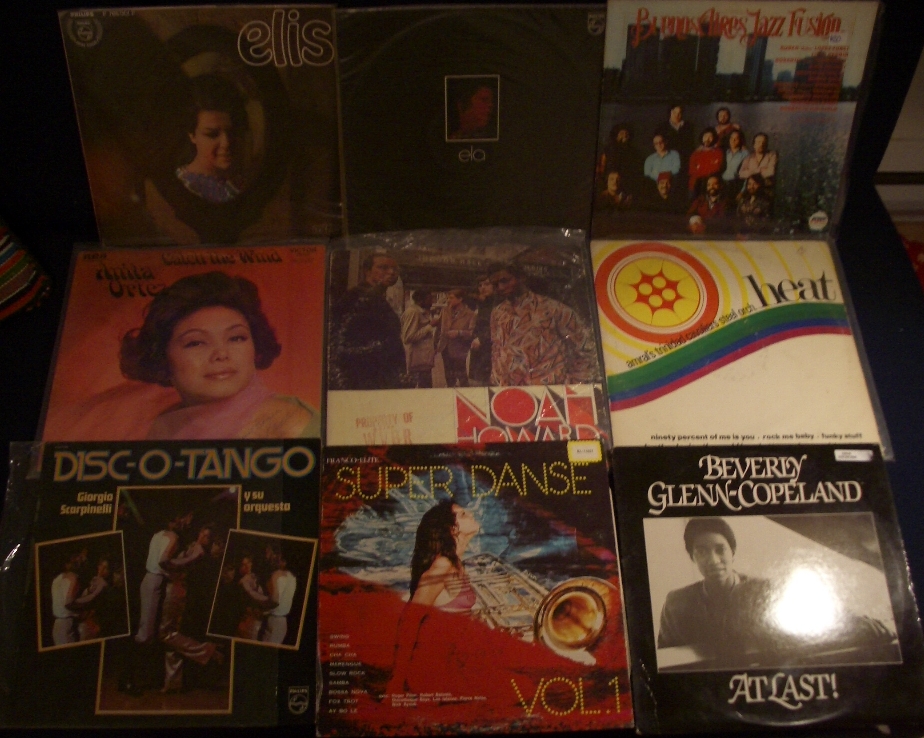 Top to bottom, left to right[/b]
Elis Regina-Elis--"Roda"; um, heat?
Elis Regina-Ela???--Classic Brazilian dancefloor material
Buenos Aires Jazz Fusion-s/t--Superb fusion from Ruben Lopez Furst
Anita Ortez-Catch The Wind--OK, most versions of 'Mas que nada' suck; this doesn't; from Montreal and very rare
Noah Howard-At Judson Hall
Trinidad Cavaliers-Heat--Steel Band funk
Giorgio Scarpinelli-Disc-O-Tango--Crazy disco tango fusion from Buenos Aires; a dark chapter for tango, but progress for disco
Various (Nick Ayoub)-Super Danse 1--Nick Ayoub's "Bossa Me" is serious bossa heat with an intro begging to be looped; this was a Waxing Deep mainstay when I was dealing fulltime
Beverly Glenn Copeland-At Last--Huge slow break on "Journeyman" followed by piano stabs that remind me of the Brenda Russel cut sampled by everybody; otherwise decent private press Toronto jazz and soul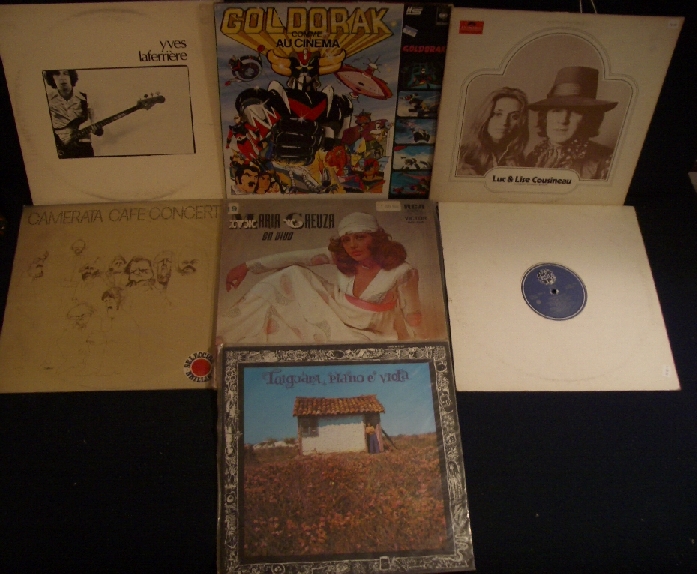 Top to bottom, left to right[/b]
Yves Laferriere-s/t--Loops, samples, bossa, and general prog goodness on this rare Quebec LP that unlike most Quebec vinyl seems to have increased in price over the years
?-Goldorak--OST to the French Voltron; wanted for spacy instrumentals with tonnes and tonnes of material for the sampler
Luc & Lise Cousineau-s/t--"quebec nucleaire" is excellent dancefloor fusion with scat vocals; very good
Camerata-Caf?? Concert--Rare Argentine Jazz with a great version of Moanin
Maria Creuza-En Vivo--Serious Brazilian dancefloor heat on "macumba", Argentina-only; used to trade for 150 Euros when first 'discovered'
Baiser-Summer Breeze--Super deep Quebec boogie, ask me for a sample if you're interested
Taiguara-Piano e Viola--Insane Brazilian moody loops; this used to be a huge Waxing Deep seller--I couldn't get my Brazilian connection to get me enough of them

The following are worth between $50-100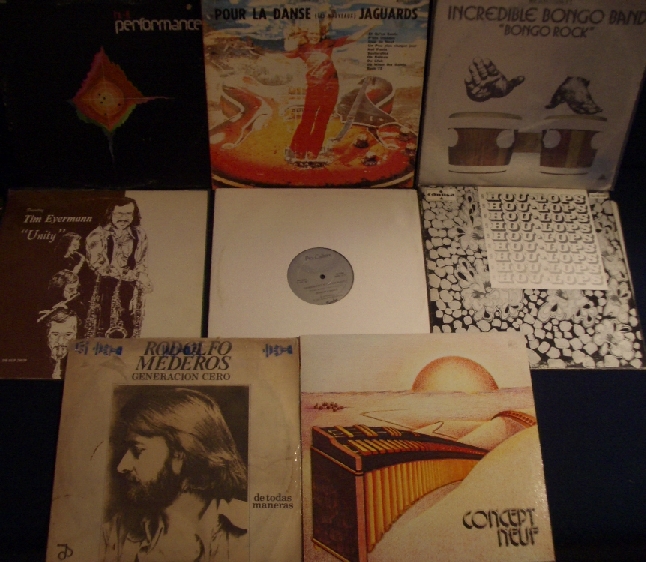 Top to bottom, left to right[/b]
Hi-Fi Performance-s/t--Breaks and euro-funk
Jaguards-Pour La Danse--"Sauterelles" is excellent funky psych, very good and very rare; from Quebec
Incredible Bong Band-Bongo Rock--Has "Ross #1" on runout groove, which apparently is good; cover is scuffed
Tim Eyermann-Unity--Private press rhodes bliss; one truly beautiful cut, at least two more very solid pieces
Les Hou-Lops-s/t--Extremely rare, seriously heavy funky psych from Quebec on "love"; so good!
Rodolfo Mederos-Generacion Cero--Fantastic Argentine tango/prog/fusion; rare
Concept Neuf-s/t--Includes "The Path"; featured on gyspy Bogdan's mix 'hot breath', basically one long break with a steel drum melody that absolutely destroys the dancefloor; insane and rare

The following are worth $100 and over (some well over )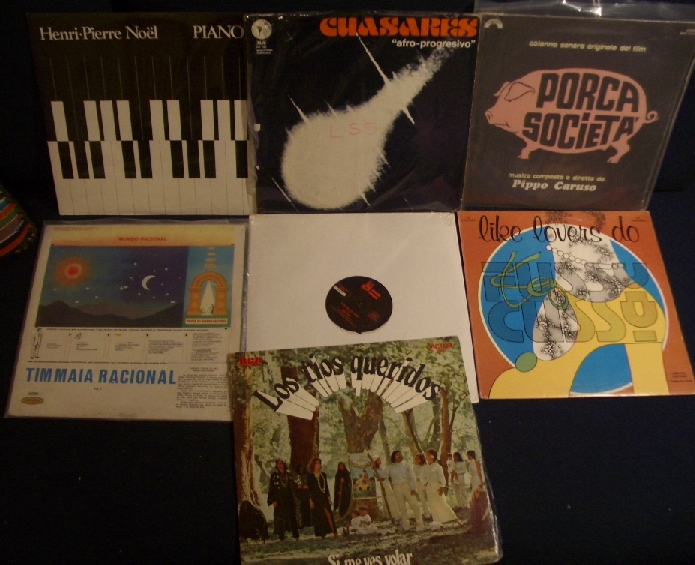 Top to bottom, left to right[/b]
Henri Pierre Noel-Piano-Haitian disco on a private press from Quebec; ss
Causares-Afro-Progresivo--Argentinian funk/afro/pysch/whatever; allegedly 500 made and distributed only to radio stations; extremely rare and extremely good; heavy trades needed for this one
Pippo Caruso-Porca Societa OST--Porn-style moog funk "Masturbation Rif" with lots of sample material; just sold for $255 on the bay, this one has some surface noise in parts, so I'd around $125 in trades
Tim Maia-Racional 1--Very rare Brazilian funk and soul from Maia's cult days "We're going to rule the world, don???t you know, don't you know" Um, no (this is actually worth more like $80, I think)
Mohjah-Jovert/Zions Gate--Very rare canadian discodub; seriously deep; Dimitri from
Paris is allegedly working on an edit
Fussy Cussy-Live Lovers Do--Rare, Montreal modern soul; danceonamerica's favourite record
Los Tios Queridos-s/t--Insane Argentine flower-power funk/beat with a break and three killer songs; rare!

some 45s....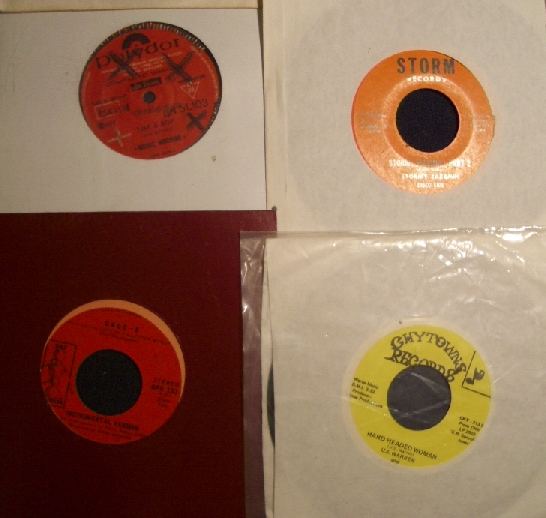 Music Machine-Take a Step/Black Power--Extremely rare non-LP funky fuzz psych from Brazil--heat!
Stormy Jazzmin-Stormy Jazzmin 1/2--Jazzfunk flavoured disco; comped on a Jazz Spectrum LP
Paul Baillargeon-Cago-9/Vera's Them--Seriously rare funky psych 7" from Quebec; brilliant; the only single from the Love in a 4 Letter World/Viens Mon Amour OST
U.S. Warren-Hard Headed Women--Proto drumnbass funk 45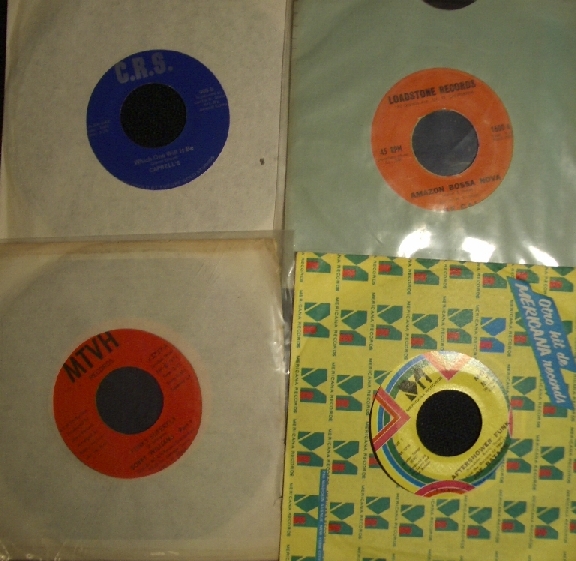 Caprell's-Every Day People/Which One Will It Be--Funky Disco on CRS
The Cals-Amazon Bossa Nova/Another Plan for School Mixup--Really cool mod funk and bossa
Bobby Williams-Funky Superfly--Single from the silly rare LP
Joe Bataan-Aftershower Funk/Fino--Top-drawer Latin funk