Home
›
Music
›
Music Talk
The Holidays "You Make Me Weak/I'm So Glad (That I Met You) Soul Junction Records SJ539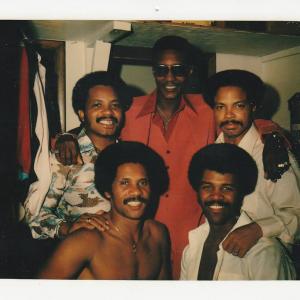 thatfunkykid
31 Posts
Press Release: The Holidays You Make Me Weak/I'm So Glad (That I Met You) SJ539
Release Date: Monday November 20th 2017
There were several groups within the Detroit music scene that shared the name of 'The Holidays'. From the 1950's through to the late 1960's our version of The Holidays who took their name from a group members car, a 1954 Oldsmobile 'Holiday', would record for the Star-x, Markie, Master and Holiday record Labels. Founding member James Holiday would also briefly pursue a solo career with releases on the Markie, Syco and Blue Rock labels respectively.
In 1969 James joined by his brother Jack, a baritone saxophonist and the former leader of the band within influential Detroit DJ 'Frantic' Ernie Durham's legendary Gold Room at the 20 Grand Theatre. The brothers together, with Maurice White and former Contours member Joe Billingslea formed 'The New Holidays' who recorded the 'Popcorn' Wylie produced song "Maybe So, Maybe No" (Soul Hawk 1008). This current in demand 45 featured "If I Only Knew" on the flipside, an excellent cover version of a previous Jimmy (Soul) Clark recording "If I Only Knew Then (What I Know Now)" This was recorded at a later session to "Maybe So, Maybe No" and featured a slightly different line up with Joe Billingslea making way for a youthful Elliot Smith.

By 1972 The Holidays found themselves without a label, so they formed their own, Marathon Records. Their initial release was the excellent double sider "I'm So Glad (That I Met You)/Too Many Times" (Marathon 257). Both songs were written by James Holland and Sylvester Potts another former member of the Motown group 'The Contours' and were recorded under the artist name of 'The Fabulous Holidays.
Into 1973 and their next release was the soulful ballad "Getting Kind Of Serious" (Marathon 18475) a Fritz Hale and Fredrick Charles Hawkins composition backed with an instrumental version. Followed by "Ego Tripping" (Marathon 18475) an upbeat funky little mover backed with the ballad "Lazy Day" written by James Holland, Anthony Hawkins and Fritz Hale."
During 1975 The Holidays resumed their acquaintance with former record store owner Ronald Holmes a collaboration which led to the release of another excellent double sider "This Is Love b/w The Love We Share" on the Rob-Ron (RR-75) label. "The Love We Share" was recorded twice. Firstly as the issued 45 version under the shortened title of "The Love We Share" and as an unissued longer version under the title of "(Been Together Too Long) The Love We Share" with slightly different lyrics. During 1976 a further Holland/Holmes collaboration saw the release of the message song "Procrastinate (Why Do We)" (Ron-Hol 76). After this release Ronald Holmes and the Holidays parted company.
During late 1976 into 1977 the Holland brothers wrote and produced two further songs which they recorded with Charles Hawkins (a founding member of the Psychedelic Rock and Funk Band, 'Black Merda') The up tempo dance track "You Make Me Weak" and the less frenetic "Lost Love" although never issued at the time both songs can be found on the recently released Soul Junction cd album "Getting Kind Of Soulful" (SJCD5012). A later discovery of an alternative take of "You Make Me Weak" (Take 2) is now available on vinyl for the first time backed with their uptempo dancer "I'm So Glad (That I Met You)" The Motorcity continues to yield its long lost legacy.
Preview - Listen Now
To buy visit Soul Junction Records at http://www.souljunctionrecords.co.uk/SJ539.html or through your usual stockists.
American buyers: Craig Moerer' Records By Mail now carries Soul Junctions Releases.
For further information please contact Soul Junction Records at:

Tel: +44 (0) 121 602 8115 or E-mail: sales@souljunctionrecords.co.uk.
tfk