Home
›
Announcements
OCT 8TH: KARL HECTOR & THE MALCOUNS / AKIWAWA AFTERPARTY / BASEL (CH)
schoggi
281 Posts
Konzeptlos@Kaschemme presents:
Flyer by
www.pix1.ch
KARL HECTOR & THE MALCOUNS L.I.V.E. (Now Again Records)
AKIWAWA afterparty with special guest JJ WHITEFIELD (Poets Of Rhythm), DJ Pun & Rainer
Karl Hector & The Malcouns was the first band that played at Kaschemme Basel back in 2014.
It was such a blast, we're happy that they're coming back on October 8th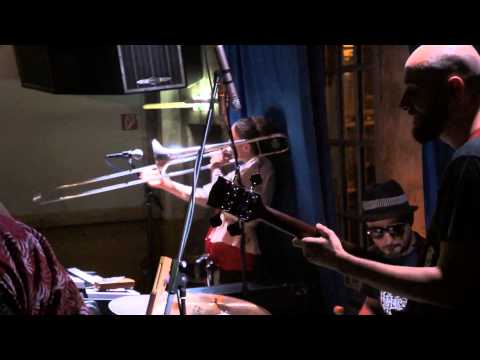 In the meantime they released the ep "Ka Rica-Tar" and a new release is in work.
Also a limited box set is available, including the left over wax (no covers) of the last 4 releases in a custom made box, check here (a bit more detailed in the rather weird comment section):
http://www.nowagainrecords.com/karl-hector-newness-cant-stand-the-pressure-albumbox-set-and-ka-rica-tar-ep/
The new stage program does include some heavy kraut-space-prog rock styles, influenced by 70's experimental German rock a la Can, Guru Guru, Agitation Free, Exmagma...
On stage:
Marja Burchard - Vox, Organ, Vibes
Zdenko Curulija - Drums
Al Markovic - Bass
JJ Whitefield – Guitar
Marja Burchard… plays in many projects. The most famous for sure is EMBRYO, together with her father and band founder Christian Burchard.
JJ Whitefield… record collector, musician, producer and (co-)founder of bands like The Poets Of Rhythm, Whitefield Brothers, Rodina, Transgressors, Karl Hector & The Malcouns etc. After the concert he'll play some plates…
Kaschemme / Lehenmattstrasse 353 / 4052 Basel, Switzerland
Link massacre:
https://www.facebook.com/Karl-Hector-the-Malcouns-37212688054/
www.nowagainrecords.com
www.konzpetlos.org
www.akiwawa.org
www.kaschemme.ch
FB-Event:
https://www.facebook.com/events/1578989209069727/