Home
›
Music
›
Record Collecting
TRIBE Magazine (Detroit Jazz Related)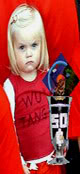 BreakSelf
2,925 Posts
I was going to give this a nice thorough introduction, but fuck it, I'm exhausted.
Below are a few (of many) photos I took of various issues of Tribe Magazine, a periodical that, until about a week ago, I didn't know existed. My initial plans were to get all the material scanned, but it was absurdly expensive.
enjoy.
Cover of the earliest issue I could find.
Second earliest cover, and perhaps my favorite.
Nice article.
Depressing article, and still relevant.
Awesome artwork for an article I have yet to read.
Each of the first few issues had calendars inside, this was my favortie.
REKKANIZE, BAATCHES!!
So awesome (1974 back cover).
Anybody wanna lend me $20?
Apologies again for the rather languid introduction and descriptions, in no way are they indicative of the excitement I felt when I first came across this incredible publication.
TAGGED: